Get your mortgage application in; homebuying season is here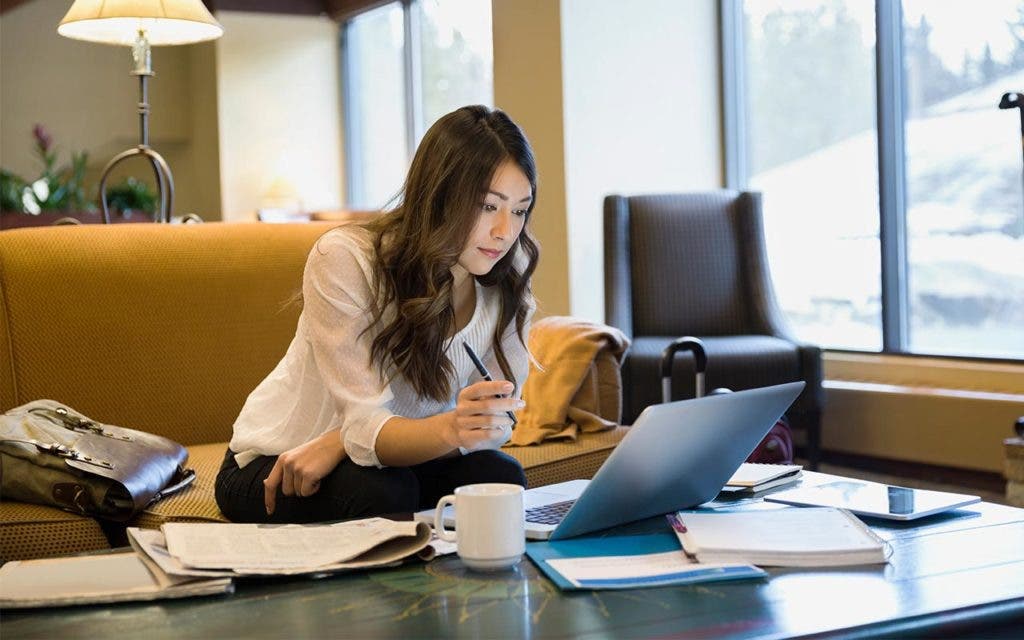 It's time to jump on the bandwagon and apply for a mortgage. Everyone else is doing it.
Mortgage lenders have seen a surge in mortgage applications in the past couple of weeks. Spring buying season has finally arrived. As potential buyers compete to buy a limited supply of homes, smart borrowers apply for mortgages early. Armed with mortgage preapprovals, they are taken seriously by sellers.
Overcome the shortage of new homes
Take a look at what happened with sales of newly built homes in March. Sales skyrocketed 15.6 percent higher compared with a year earlier. New homes were sold at an annual rate of 621,000 units in March. There was just a 5.2-month supply of new homes for sale. With homes in short supply, it's a good idea to get that mortgage application done now so you can make your move when the perfect home comes available.
"Already this spring market is challenging last year's high water mark," says Joseph Kirchner, senior economist for Realtor.com. He adds that new home sales are up three months in a row and are near last year's peak month of July. (Coincidentally, lots of buyers and refinancers were turning in their mortgage application last July, too.)
The big problem for first-time homebuyers
Kirchner says there's bad news mixed with good: Most new homes are priced in the mid- to upper-end of the range.
Half of the new homes sold last month were priced at more than $315,100. High prices leave out first-time homebuyers, who often get low-down payment loans insured by the Federal Housing Administration. "Sales of affordable new homes under $200,000 dropped to 12 percent from 17 percent of the market since last April," Kirchner says.
He adds that the dearth of new homes priced for first-time owners "is going to keep many would-be buyers on the sidelines." Even as mortgage rates are near historical lows.
Mortgage application advice
Wonder how much house you can afford to buy? Bankrate has a home affordability calculator that's right up your alley. It can help the first-time homebuyer who has yet to apply for a mortgage. It can aid move-up buyers who don't want to get in over their heads.
And if you're a first-time homebuyer, here are five mistakes to avoid. One of the most important lessons is to apply for a mortgage before you start looking for the house. That way, you'll know how much you can afford and so sellers will know that your deal is likely to go through.
Sales are up, but so are prices
As I mentioned above, new homes were sold in March at their fastest pace since last summer. Of the 58,000 new homes that were sold in March, just 10,000 of them cost less than $200,000. The most popular price range was for homes sold between $200,000 and $300,000. Whatever your price, see Bankrate's mortgage comparison tool.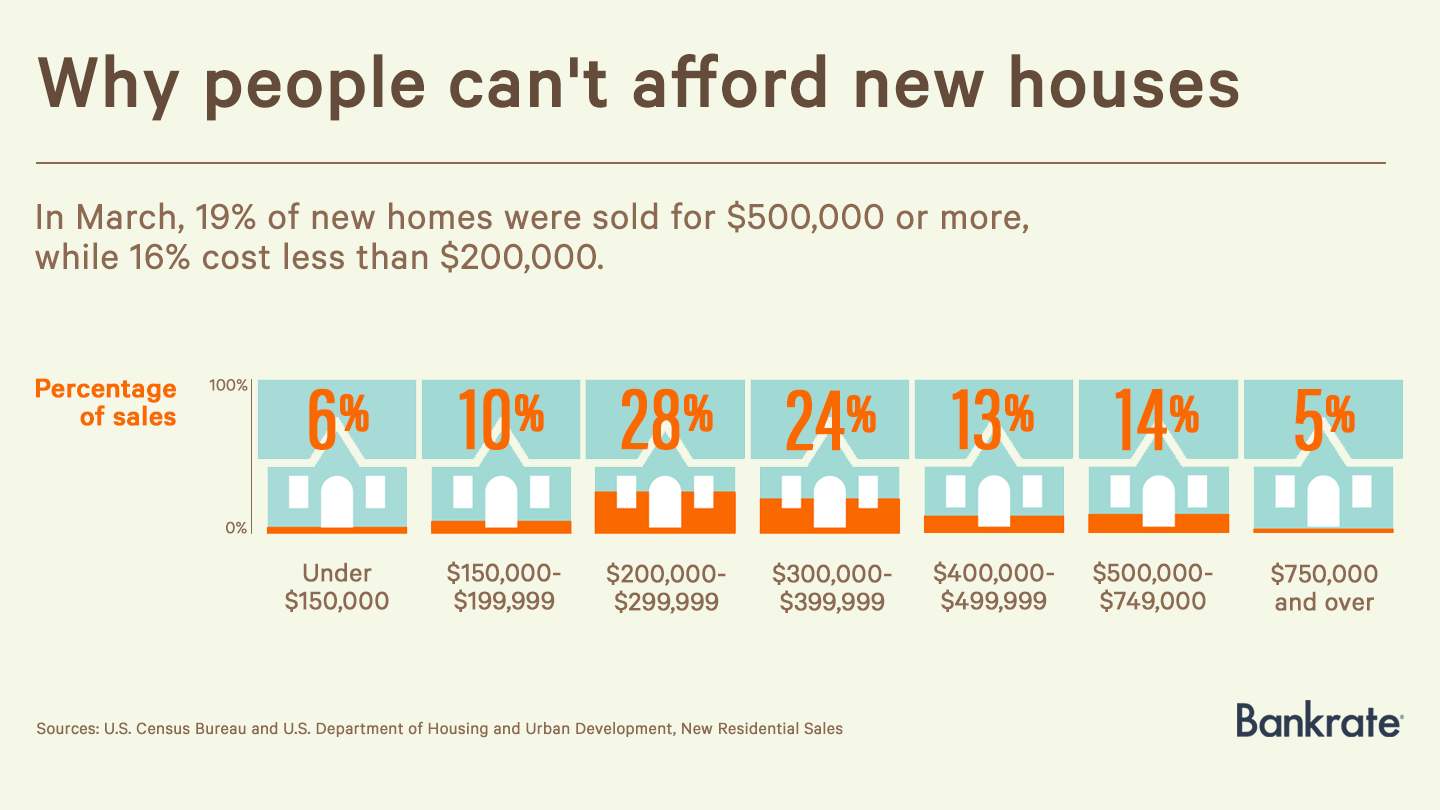 "With sales up, so are prices," says Joel Naroff, president of Naroff Economic Advisors. "We are not yet in a housing bubble, but the dearth of supply, which persists in both the new and existing housing segments, will likely lead to even faster price increases going forward." Fast-rising prices encourage people to buy and get mortgages now, rather than later.
Moderate-income buyers are priced out of homebuying nearly everywhere, in cities and suburbs, says Brian Koss, an executive for Mortgage Network, which lends up and down the east coast.
Maybe that state of affairs is about to ease somewhat. In the Philadelphia Federal Reserve Bank's Nonmanufacturing Business Outlook Survey for April, 40 percent of businesses said they had to hike wages and benefits this spring. If wages continue to rise, maybe more homebuyers will be able to afford new mortgages.
Refi to rid yourself of Ocwen
Ocwen Financial is one of the biggest mortgage servicers in the country. It got slammed with a fusillade of federal and state lawsuits last week. The lawsuits alleged that Ocwen mismanages borrowers' escrow accounts.
The lawsuits were filed by the Consumer Financial Protection Bureau and more than 20 states. They prevent Ocwen from buying the rights to service any more loans until it can prove it's able to manage escrow accounts without screwing up.
"We allege that Ocwen calculated loan balances improperly, misapplied borrower payments, and botched escrow and insurance payments," said Richard Cordray, director of the Consumer Financial Protection Bureau. "We believe Ocwen failed to properly investigate and fix these problems when people formally complained, and it illegally foreclosed on borrowers."
Cordray added that "consumers are stuck with their mortgage servicer, regardless of how they are treated." That's mostly true, but if you really dislike your mortgage servicer, you can refinance your mortgage.
Ocwen disputed the claim that its mortgage servicing practices harmed consumers. "Ocwen believes its mortgage loan servicing practices have and continue to result in substantial benefits to consumers above and beyond other mortgage servicers," the company said.
This week, Ocwen filed motions challenging the constitutionality of the Consumer Finance Protection Bureau and complaining that the agency is "too often bent on making a point rather than on doing justice."
One Ocwen motion says the CFPB accused Ocwen of improperly foreclosing on homeowners, although the bureau "did not actually look at the individual servicing files for these customers' loans before making this allegation." (Emphasis in the original.)
Mortgage rates this week
The promised tax reform plan sent mortgage rates modestly upward this week, ending a three-week streak of declining mortgage rates. The French election results added momentum to higher rates after the weekend. But rates started going up last Friday afternoon, after President Donald Trump promised to deliver a tax reform plan this week.
One thing to keep in mind: We're in a refinancing boomlet, so if you finally have built enough equity, apply now to refinance.
RTI comment of the week
Every week, Bankrate posts the Rate Trend Index, in which loan officers predict whether mortgage rates will go up, down or stay about the same in the coming week. Here's the comment of the week:
Vote: Unchanged. The daily tech is now bearish (lower prices, higher yields and rates) but the weekly is bullish. The election in France coupled with healthier economic growth in the EU caused equity buying there, which washed over to the U.S. There may also be some sentiment that Trump is not crazy but rather a president with a different way of doing and expressing things and moreover that World War III is not about to happen. This makes investors more confident. However, economic fundamentals in the U.S. are still mediocre at best.
— Dick Lepre, senior loan adviser, RPM Mortgage, Alamo, California