Email scam tells you to wire down payment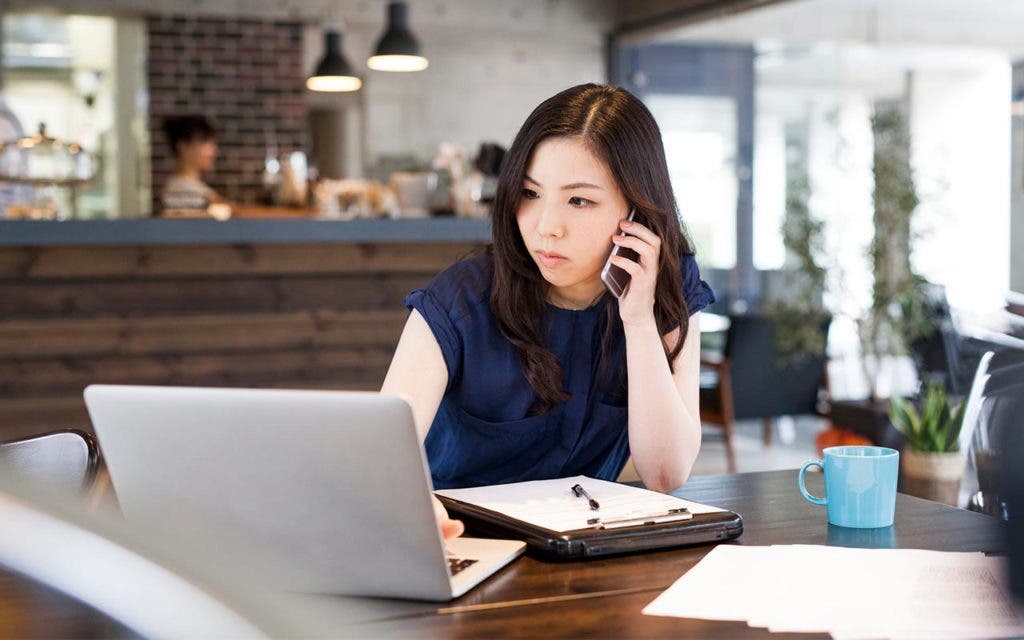 Scammers are resourceful. But a would-be thief messed with the wrong person when trying to cheat Virginia real estate agent Stacy Hennessey.
Her experience with an attempted email scam might protect you from getting ripped off if you're looking to buy a home and get a mortgage.
Hennessey was buying a property in Maryland in 2015 and noticed something in an email from the seller's agent. "It said in order to expedite closing, please wire a certain amount today, and here are the wiring instructions" she says.
That was weird. You never wire some of what's owed — you wire all of it. And Hennessey had not received closing documents. She scrutinized the email and noticed an extra period in the sender's email address. So she did the smart (but unfashionable) thing: She picked up the phone.
"I called and said, 'Hey, I got this email,'" she says. And the agent replied, "What email?"
'Scary' scheme
She believes a scammer had hacked the seller's real estate brokerage. If Hennessey had wired the money, she would have lost thousands of dollars.
"Somehow these hackers have figured out what transactions are happening," she says. "It's scary." Now her email signature instructs recipients to never wire money without calling her to confirm.
When you close a real estate transaction, a settlement company usually is involved. Depending on where you live, it might be a title agency, an escrow company or a law office. If you need to wire money, the settlement company will give you instructions. "A random agent doesn't email them to you," Hennessey says.
Bottom line: Before wiring down payment money that you've worked hard to pull together, call the settlement company and your real estate agent.
What's up with home prices
Prices for single-family homes zoomed 7 percent in the 12 months ending in February, according to the CoreLogic Home Price Insights Report. CoreLogic expects home price appreciation to slow to 4.7 percent over the next 12 months. That's far above the overall inflation rate, and I doubt many people are getting raises that big, either.
Frank Nothaft, CoreLogic's chief economist, says prices and rents have been rising especially rapidly in places where demand is high and the supply of houses is low. He names Denver, Seattle and Portland, Oregon. And he says the price growth is particularly fast for lower-priced homes — you know, starter homes. It's really rough out there for millennial first-time homebuyers.
I recommend FHA-insured mortgages for first-time homebuyers, because the minimum down payment is just 3.5 percent.
Mortgage rates this week
Be glad that mortgage rates went down this week, but don't expect them to stay there. The Federal Reserve is steadily raising interest rates, both short-term and long-term. This will result in gradually higher mortgage rates through 2018. You don't need to panic, but with home prices and mortgage rates both going up, the sooner you apply for a mortgage, the better.
Selling Mom's house
In a few months, I'm going to sell a house that doesn't belong to me. I'll take you on my journey with occasional updates in this blog.
The house belongs to my mother. As dementia took over her brain during the past five or six years, the house became her refuge. Finally, she had to go, unwillingly, so she could be safe. After months of effort and many flights between my home in Florida and her home in Texas, I moved her out of the house this week and into a nursing home.
Step 1: Fix the door
Week before last, we got her front door fixed. Because of foundation settling, the door's latch no longer lined up with the hole in the door's frame. Mom refused to let anyone fix it. She propped a kitchen chair against the knob. That's how she secured her home for a month or two. The characters in "Night of the Living Dead" did a better job.
A caregiver went to Mom's house to supervise the door repair. When the locksmith arrived, Mom was adamant that no one would be allowed to fix the door. She slapped the caregiver. Hard.
The locksmith, Matt, gawked. The caregiver told Matt to keep working, and ordered Mom to her room. Matt fixed the door and fled. (In Texan English, he "skedaddled.")
Step 2: Rekey the locks
A week later, Mom was out of the house and I called the locksmith again, this time to change the locks. At least two neighbors and two caregivers had keys to the house. Lord knows how many others were floating around.
As Matt got out of his truck, I greeted him in the front yard. "Don't worry," I said, "she's not here, so there won't be any violence this time." Matt grinned, relieved. Forty-five minutes later, the locks were rekeyed.
Next step: Court
The next phase of this saga involves the county probate court as I seek permission to sell the house on Mom's behalf. I'll spare you the details of that; it won't be as interesting as an episode of "Law & Order."
Someday I'll tell you about the neighbors. For years they have been circling Mom's house, waiting for her to leave one way or another. The house is in one of the hottest neighborhoods in the Dallas-Fort Worth Metroplex, which means competition for houses is fierce. One neighbor wants to buy the house and tear it down. Other neighbors have friends or family who want to buy it. Heck, the neighborhood police officer called me this week, offering to buy the car.
People: I love 'em.
RTI comment of the week
Every week, Bankrate posts the Rate Trend Index, in which loan officers predict whether mortgage rates will go up, down or stay about the same in the coming week. Here's the comment of the week:
Vote: Up. A strong economy is always a signal for higher rates. Jobs are showing strength in numbers — and the monthly jobs reports comes out this Friday, which is often a market mover. An increase in jobs is good economic news that bodes not-so-good for mortgage rates. Bonds are mid-stream of territory not seen in about a month, and could easily lose ground in a blink.
— Elizabeth Rose, branch manager, Movement Mortgage, Dallas