Making a relaxing bathroom
1 of 6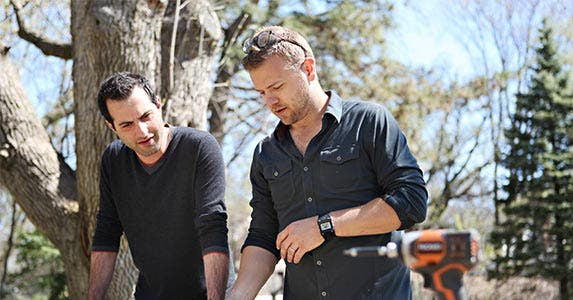 Wouldn't we all love to be ambushed in the home improvement aisle by the "Bath Crashers" crew?
Having a walk-in shower or a jetted soaking tub right at home — maybe with some marble flooring below and a crystal chandelier above — sounds just about as good as a spa vacation.
But most of us don't have the luxury of help from "Bath Crashers'" Matt Muenster. If you're planning a DIY master bath renovation, you know that such a luxury doesn't come cheap.
In construction or remodeling, "the bathroom, per square foot, is one of the most expensive things in your house," says Michael Hydeck, founder and former owner of Hydeck Design Build near Philadelphia.
Be candid with the contractor
You can cut costs, but you have to be upfront with your contractor.
Articulate exactly what you like in that dream bathroom. "And sometimes (homeowners) don't know," says Robert Criner, owner of Criner Remodeling in Newport News, Virginia.
Equally important: Be honest about your budget.
FREE TOOL: Get a customized personal loan rate today from myBankrate to fund your home improvements.
A smart contractor or designer can offer less-costly materials, designs and finishes. "But you have to have that conversation," Criner says.
Planning a remodel? Contractors and designers share tips for saving a few dollars.
Ojo Caliente, New Mexico
2 of 6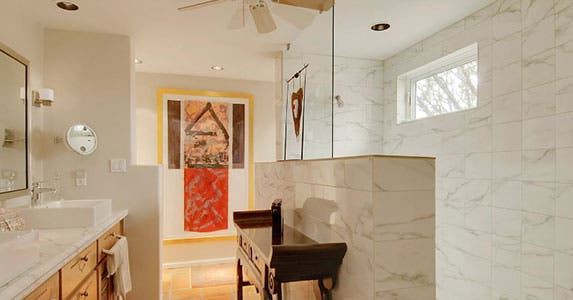 Realtor.com
1-bedroom, 1-bath condominium built in 1997
Price: $248,500
Description: This master bath, like the condo, "was designed with the landscape in mind — it's all about the setting," says David Fries, real estate broker for Sotheby's International Realty in Sante Fe, New Mexico.
It features "an extremely large walk-in shower" trimmed in glass and "ceramic tile that looks like Carrara marble," he says. A clerestory window furnishes light while preserving privacy.
Walls are "hand-applied plaster, which is prevalent in this area," Fries says.
The alder and red willow vanity has two raised, rectangular ceramic sinks, double mirrors and porcelain faux-marble countertops, he says.
The room has both wall-mounted and recessed lighting, plus a separate water closet. Floors are traditional Saltillo tile, he says.
Getting the look: This master bath has a "clean and crisp look," Criner says.
"Because remodeling is more expensive than building new," transplanting this room into your own house could cost up to $40,000, he says. And that's assuming your house has the space, plumbing and water pressure to support it, he says.
On a budget: Have a professional take out an existing tub or shower, install your new shower and tile the floor, and "you're probably under $15,000," Criner says.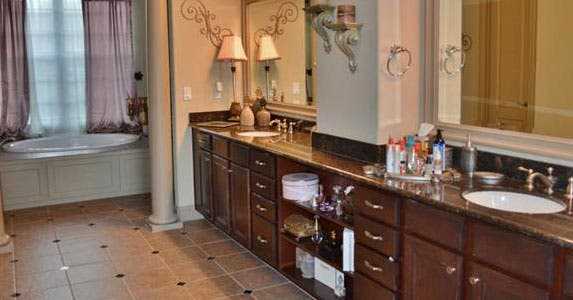 Realtor.com
3-bedroom, 3 1/2-bath town house built in 2010
Price: $365,000
Description: "You feel like you're at a retreat," says Steve Kahn, Realtor with Century 21 Mike Bowman Inc. in Grapevine, Texas.
An archway flanked with columns frames a jetted tub under a large picture window — with a view of the master bedroom fireplace, Kahn says.
The marble-tiled shower with a glass front features a rain head with multiple modes and built-in seating.
Granite tops the custom cabinets of the double vanity and floors are marble tile, he says. And, at the entrance to the master bath, there's a matching wet bar with a minifridge and a microwave.
Getting the look: Depending on where you live, replicating this master bath could cost up to $100,000, Hydeck says.
On a budget:
Select a flat (rather than a barrel vault) ceiling, Hydeck says. Trim the number of archways to one over the doorway, with perhaps a second over the shower, he says. Possible savings: $2,000 to $3,000.
Choose stock cabinets and a lesser grade of granite, he says. Possible savings: as much as $12,000 to $14,000.
Opt for two columns — one on each side of the tub — instead of eight, Hydeck says. Possible savings: $3,000 to $4,000.
RATE SEARCH: Need a home equity loan to remodel the bathroom? Check out loan rates at Bankrate today!
Washington Township, Ohio
4 of 6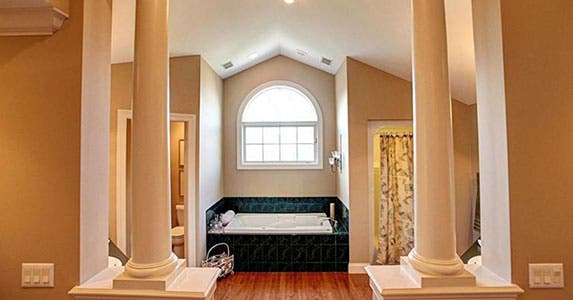 Realtor.com
4-bedroom house with 3 full baths and 2 half-baths, built in 1997
Price: $449,900
Description: This master bath "is very dramatic," says Cindy Buckreus, associate partner with Coldwell Banker Heritage in Dayton, Ohio.
Two columns frame the entrance beneath the cathedral ceiling. The jetted tub, set in green tile, sits under a high, arched window. The separate walk-in shower has multiple shower heads and built-in seating.
His-and-hers vanities, on either side of the entryway, have hardwood cabinetry and Corian countertops.
This room has hardwood floors, a water closet, a walk-in closet with an organizational system and an adjacent exercise room, Buckreus says.
Getting the look: This master bath has "a very high-end design," says Paul Sullivan, a past chairman of the National Association of Home Builders Remodelers and president of The Sullivan Co. in Boston.
Transplant the room to your home with a professional remodel and the cost could easily run $45,000 to $50,000, he says.
On a budget:
In the shower, opt for a unit with a single shower head rather than multiple heads, says Sullivan. Switch the conventional shower head for a rain head, he says.
Select stock or semi-custom cabinets rather than custom cabinets, along with a lesser grade of granite for vanities, Sullivan says. It gives you a luxe look for less.
]
Summerville, South Carolina
5 of 6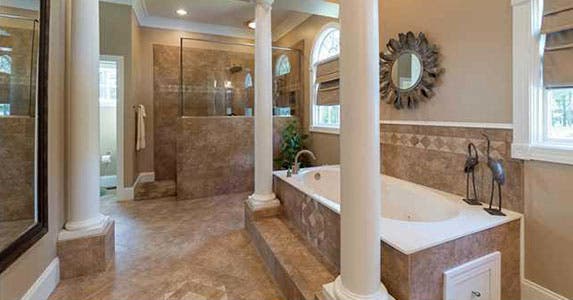 Realtor.com
3-bedroom, 2 1/2-bath house built in 2002
Price: $525,000
Description: This master bath was remodeled to create "a spa-like atmosphere," says Joanne Harwell, broker associate with Coldwell Banker United Realtors in Mount Pleasant, South Carolina.
The jetted tub, set in travertine tile, is flanked by arched windows and columns. The walk-in shower, lined in travertine tile, features multiple shower heads, built-in seating and a glass face, she says.
The custom cherry vanity has granite countertops, seating and double sinks, Harwell says. The room also has a water closet and travertine flooring.
Getting the look: Re-creating this room in your own professional remodel could run $60,000 to $80,000, depending on where you live, says Jason Landau, ASID, the owner and designer of Amazing Spaces LLC in Briarcliff Manor, New York.
On a budget:
Opt for a soaking tub instead of a jetted tub, Landau says. That could save "several thousand dollars," he says.
Instead of a custom vanity, choose a free-standing, furniture-style vanity at one of the big-box home improvement stores, says Landau. You could cut the cost in half, saving as much as $3,000, he says.
Travertine can be pricey, Landau says, but you can get porcelain or ceramic tiles with a similar look for less.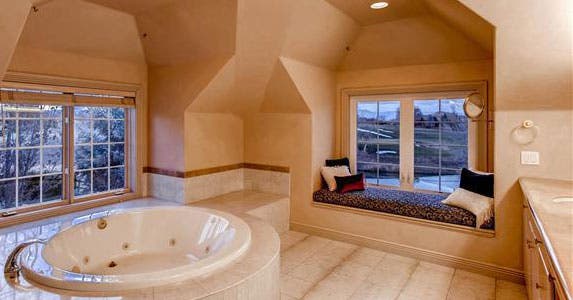 Realtor.com
5-bedroom, 5-bathroom house built in 1994
Price: $1.15 million
Description: "It's absolutely huge and spectacular," says Pamela Subry, broker associate with Re/Max Northwest in Westminster, Colorado. "The views are amazing."
Under the cathedral ceiling, the oversize jetted tub, set in marble, sits in front of a picture window. The marble-tiled, walk-in shower — faced in glass brick — features multiple shower heads, built-in seating and a heating lamp, she says.
The double vanity has custom maple cabinets, marble countertops and a wall-length mirror with mounted task lighting, Subry says. The room has a second picture window and built-in seating, marble floors, recessed lighting and a water closet.
Getting the look: People are treating master bathrooms "like a spa," says designer Cortney Novogratz, former co-host of HGTV's "Home by Novogratz."
On a budget:
Give your existing shower an upgrade with a rain-spray shower head and a teak bench, she says. The oversize shower head "spreads water better and is greener," while seating "gives it a more luxurious feel."
Skip tiling an entire room with a budget-busting material. Instead, include a stripe or two of your favorite with a less expensive tile as background, says Novogratz.
Opt for a smaller mirror over each sink rather than running it the length of one wall and up to the ceiling, she says.
RATE SEARCH: Thinking about remodeling your bathroom? Get a personal loan rate customized just for you!
More From Bankrate