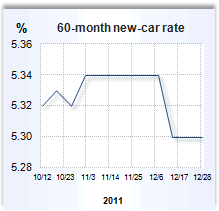 Interest Rate Roundup
Auto Loans
5.3% (60-month, new car)
6.32% (36-month, used car)
Auto loan rates on new cars were unchanged again this week. The average rates for 48-month and 60-month new-car loans cruised at 5.27 percent and 5.3 percent, respectively.
Used-car loan rates also held steady. The average rate for a 36-month used-car loan idled at 6.32 percent.
This week, a Maryland judge found automotive retail giant CarMax in contempt of court for failing to abide by a 2008 class-action settlement, requiring it to disclose to customers if a car has ever been used as a rental, according to a report in The New York Times. Maryland law requires auto dealers to tell customers if a car has been used for any purpose other than consumer use.