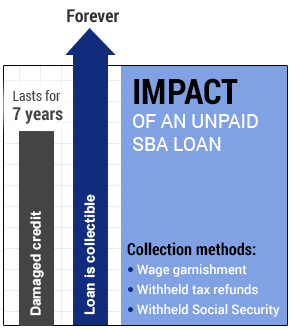 Dear Debt Adviser,
My business went bankrupt in 2008, resulting in a charge-off on an SBA loan. Since the SBA loan is also in my personal name, that charge-off is on my credit report. I am now trying to get a mortgage to purchase a property and would like to get the charge-off removed. How should I approach this? I hear the charge-off may disappear from my credit report after a seven-year collection period. Is that true? Would it help if I contacted the bank? They have never contacted me and asked for repayment. Finally, what sort of adviser should I contact if I have further questions?
— James
Dear James,
What you don't know about your SBA debt can and will hurt you, so listen up and read on.
The seven-year collection period that you are referring to in your letter is actually not a collection period at all. Seven years is the time that negative information on your loan can be reported on your credit bureau reports. The record of your SBA loan, charge-off and all, will fall off your credit report seven years from the date it became delinquent and subsequently was charged off. So, it will be removed from your credit report in 2015.
Unfortunately for you, the real collection period for your loan is different from its reporting time frame. The federal statute of limitations at one time was six years, but the Food, Conservation and Energy Act effectively did away with any time limits, so your loan remains collectible.
You noted that the bank hasn't pursued any collection action. That makes sense because the bank has been paid already. Once the loan was charged off, the bank that issued it would have applied to the SBA for the guaranteed amount of the loan and received the balance due.
So, you have a bigger issue than the debt appearing on your credit report. You have a federally backed debt that is essentially collectible forever through wage garnishment or by withholding government-issued money (Social Security benefits, tax refunds, etc.). Defaulted loans are turned over to the Treasury Department and they in turn employ one of five collection agencies. Once the loan is turned over to collections, a 28 percent fee is added to the balance.
My recommendation is that you contact the SBA and make arrangements to pay off this loan. With the ability to collect at any time, it would be better for you to decide when you will pay than for the government to decide for you. You may have to put off purchasing your home a little longer to get the loan repaid. You can then move forward without the debt hanging over your head.
Good luck!
Get more news, money-saving tips and expert advice by signing up for a free Bankrate newsletter.
Ask the adviser
To ask a question of the Debt Adviser, go to the "Ask the Experts" page and select "Debt" as the topic. Read more Debt Adviser columns and more stories about debt management.
Bankrate's content, including the guidance of its advice-and-expert columns and this website, is intended only to assist you with financial decisions. The content is broad in scope and does not consider your personal financial situation. Bankrate recommends that you seek the advice of advisers who are fully aware of your individual circumstances before making any final decisions or implementing any financial strategy. Please remember that your use of this website is governed by Bankrate's Terms of Use.