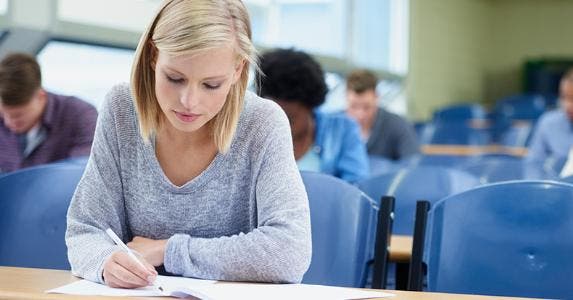 Mounting student loan debt is a huge problem plaguing the country, with the level of outstanding debt at about $1.2 trillion.
Graduates entering the workforce are not only facing large payments each month, but are also tasked with finding a job in a tight economy. Even among the ones that do find work, many are underemployed and struggling to pay back their student loans.
New rules going into effect July 1 are aimed at holding career training programs accountable for putting their students on the path to success. They're also directed at protecting consumers and preventing fraud, waste and abuse, particularly at for-profit colleges, according to the U.S. Department of Education.
For-profit college grads saddled with debt
While blame can be placed on many parties, the Department of Education has set its sights on for-profit colleges, arguing many of them are churning out graduates who are unprepared or have more debt than they can afford to pay back with the degree they've earned.
The government wants for-profit colleges to be held to a strict standard or lose the right to offer federal financial aid to their students.
Called the gainful employment rule, it requires for-profit colleges and certificate programs to prepare students for "gainful employment in a recognized occupation."
A program would be considered to lead to gainful employment if the annual loan payment of a typical graduate doesn't exceed 20% of his or her discretionary income or 8% of his or her earnings. Programs that exceed that level could lose their ability to participate in federal aid programs.
More On Student Loan Debt:
Student debt problems loom larger
New college debt rules were put in place after difficulties became apparent for students leaving school and beginning to pay off their student loans. And, it's not just new grads who have struggled with their loan payments.
Outsized student loan debt had begun to create headaches for people trying to save for their retirement as well, statistics show.
In 1989, student loans made up 4% of installment debt for pre-retirees. By 2013, student loans made up 30%, according to LIMRA Secure Retirement Institute, which analyzed federal data on consumer finances.
Gainful employment rule has its critics
Not everyone thinks the gainful employment rule is the best way to resolve the problem. The rule was first issued four years ago and has faced wrangling in the courts.
Critics argue that, while something needs to be done to better prepare graduates for the real world and to make sure their debt is manageable, this rule is unfairly harmful and could result in many good programs being shuttered at for-profit colleges.
"The rule has the result of misleading students and the public since it only applies to for-profit degree programs and exempts degree programs at public and nonprofit institutions," says Marc Jerome, executive vice president of Monroe College, a for-profit college based in the Bronx, New York. "It makes no sense to close a degree program at a for-profit college while allowing students to attend the identical program at a public or nonprofit college where the graduation rates are lower and student loan default rates are higher."
Jerome argues the rule judges degree programs on student earnings 16 months to three years after graduation, which he says is not enough time because earnings are typically low at the start of a career but rise as the person gets more experience.
He also took issue with the 8% debt-to-earnings rule, saying most degree programs at public and nonprofit colleges wouldn't meet the standard if it was applied to them.
High tuition cost at for-profit colleges
For-profit colleges aren't inherently evil, but there are instances where schools aggressively recruited students, charged high fees and sent them into the workforce with degrees that would result in salaries that couldn't cover a fraction of the debt.
"There is no doubt there were some big for-profit colleges that aggressively marketed, trying to enroll anybody," Jerome says. "There are plenty of not-for-profit colleges charging $50,000 for a sports journalism degree, and it's unclear why it's so high."
According to David Halperin, a Washington, D.C.-based attorney and public advocate, the gainful employment rule was created out of a realization by the Obama administration that a number of for-profit colleges were charging too much and producing bad education outcomes.
"Far too many students are leaving worse off than when they started," Halperin says. "The administration needed to develop a rule that would penalize and cut off federal student aid for schools that consistently left students with debt they could not pay."
Some for-profit programs could close
With as much as 90% of revenue for many for-profit schools coming from federal student aid, this rule could mean the end of an institution — or at the very least, a program — that is failing to meet the government's standard, says Mark Kantrowitz, senior vice president and publisher of Edvisors.com, a website that provides commentary on attending and paying for college.
"What will likely occur is that institution will end programs that aren't satisfying the rules," Kantrowitz says. "If the program is just at the edge of qualifying, the school will try tweaking the program or cutting tuition or changing admissions standards."
So, which programs can be at risk at for-profit schools? According to Kantrowitz, programs in cosmetology, criminal justice, fashion and legal assistance, among others, could be shuttered. For students, the main concern will be if the program is closed down midway through a student's coursework and he or she has to switch schools or majors.
Halperin says some of the worst programs will end once the rule is applied. "That's a good thing because (students) often enroll in programs that, if they knew just how bad they were, they wouldn't enroll to begin with," he says.