Tickets, travel, stay and style: Must-have moves to save this music festival season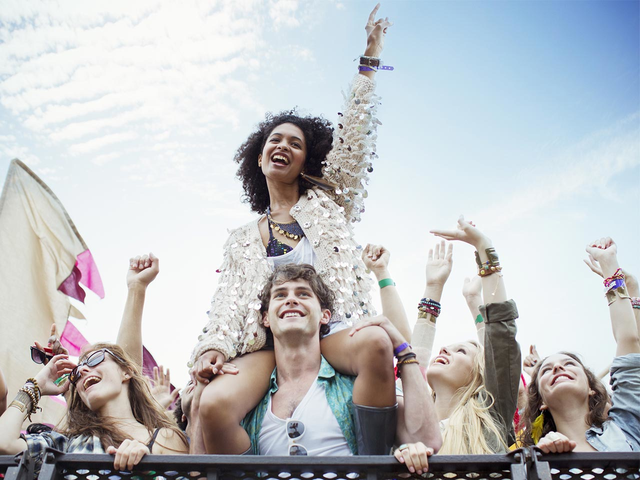 Grab your flower crown: Whether you have your sights set on Coachella or Lollapalooza, I'm giving you the rundown on how you can do music festival season for less.
Tickets
Music festival passes go for rockstar prices, and while Beyoncé is likely not ballin' on a budget, you are! Typically, the earlier you buy, the better; be sure to take advantage of those early bird ticket prices.
Here's how much prices are already skyrocketing this season:
Coachella (April 14-16 & April 21- 23 at Empire Polo Grounds in Indio, California):
General admission passes for one weekend originally: $399
General admission passes now for one weekend on SeatGeek: $590
Lollapalooza (Aug. 3-6, Grant Park, Chicago):
Four-day general admission ticket originally: $335
Four-day general admission ticket now on Ticketmaster verified: $376
It's also worth checking out SeatGeek. SeatGeek searches tons of ticket sites and puts the results in one place, so it's easy to compare. Its "Deal Score" system analyzes ticket listings and highlights the best deals.
Really strapped for cash but don't want to suffer from FOMO? Many music festivals — including Hangout (May 19-21 in Gulf Shores, Alabama) and Bonnaroo (June 8-11 in Manchester, Tennessee) — give volunteers who work the event free tickets and passes in exchange for their services. (Click the links to find out more.)
Travel
Before you get your groove on, you have to get there. Sky-high travel costs can seriously kill your vibe, though.
Be strategic when booking travel to really maximize your money. If you're flying, there are tools out there that can ensure you're booking the best deal. Hopper is an awesome app that predicts when your flight will be cheapest, recommending the right time to book. Google Flights is also awesome, because it highlights ways you can save by making minor tweaks, like switching which airport you fly out of.
If you have an airline credit card, you might be able to fly for free! Check out these top picks for the best airline credit cards, like the Citi AAdvantage Platinum Select, which currently rewards with two airline miles per $1 spent on American Airlines purchases.
If you're road-tripping, be sure pump the brakes on how much you spend! Gas can guzzle up all your cash if you're not careful, so be sure to hunt for the lowest prices with apps like GasBuddy, Gas Guru and Waze.
Renting a car? If you're under 25, rental companies might slap you with annoying young driver fees. Swerve those by opting for a car rental company that doesn't have hefty prices for young drivers, like Zipcar, which even throws in gas for your trip!
Stay
When it comes to festival season, ditch the hotel. Many music festivals offer camping passes as a lodging alternative, which is typically cheaper than staying in a hotel.
At Coachella, a camping spot for the entire weekend is $113, and at Bonnaroo car camping passes are $59.97 for the weekend. Those prices are per car, not per person, so split it with your squad! Camping is part of the festival experience.
Don't really want to rough it? Opt for an Airbnb instead of a hotel, that way you can split the cost of the house rental with a group of people instead of just one other person for a hotel room.
Style
You could spend all of your savings on Free People festival fringe. But you really, really shouldn't.
Why? Because you'll likely be dancing in the desert, working up a sweat and dirtying up your clothes. Go for fast fashion for festival season (H&M's Coachella collection was made for this) and get creative with your accessories; pluck flowers to put in your hair and voila. If you need some DIY inspo, check out the video below!