The best deals for last-minute gifts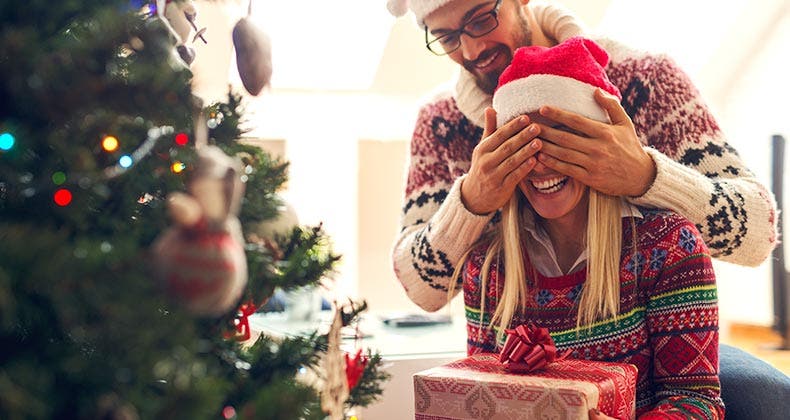 You might have been too busy Christmas caroling or stepping up your Elf on the Shelf game, but now you're desperate for the perfect gift.
You're in luck! This week, I'm highlighting the best deals and sales for last-minute gifts.
Also, find out how you can get free delivery on everyday essentials, why you should really take a day off and what you should get your Secret Santa.
RATE SEARCH: Find the right rewards credit card to take advantage of last-minute holiday purchases.
Steal of the week
The steal: Last-minute gifts. Because those stockings don't stuff themselves, and the 12 Days of Christmas are really close to being over.
When is it? Now. It's almost time for Santa to shimmy down that chimney.
What else do I need to know? Here's where to score the best deals for last-minute gifts:
Bottom line: It might be frosty outside but the deals are still heating up.
Where to save this week
On your office Secret Santa
The office Secret Santa swap can cause way more anxiety than it should. You've got end-of-year performance reviews and deadlines to stress over; why should you worry about having to pick the perfect present for your co-worker?
A couple tips: Avoid anything scented (they might be allergic) or clothes (awkward if you guess the wrong size).
But you can still get something unique! You spend a lot of time with your cube-mates, so get something tailored to their personality, whether they're a foodie or a health nut.
I've created a gift guide for your office Secret Santa. You can check it out here. The best part? All the gifts are under $20.
On your next delivery
Has your Amazon Prime free trial ended, leaving you with no choice but to bundle up and brave the cold for all your hibernation essentials? Check out Google Express; you won't have to leave the comfort of your home this winter.
Google Express is an online marketplace offering delivery of products from a number of retailers, like Costco and Target. You can get a free three-month trial, hooking you up with same-day delivery on eligible orders. The free trial offer expires Jan. 31, so take advantage while you can!
Just be sure to cancel your membership before your free trial ends, or your membership will automatically renew. The membership fee is $10 per month or $95 per year.
P.S. Last week, I filled my subscribers in on how they can score free swag on their birthday. Don't miss out on exclusive savings tips! Subscribe here.
Savings hack of week
The temptation to make it rain on payday can be overwhelming. Even the most self-disciplined saver can't resist spending a little cash when that direct deposit hits. So what's the real secret to scoring a fat savings account?
It's harder to spend money you don't see. That's why I'm a big believer in making your savings contributions automatic. Before the new year hits, make it a point to set up automated contributions. Banks will often hook you up with free services that transfer a fixed amount of money from your checking to your savings account every month.
RATE SEARCH: Compare savings accounts on Bankrate and, maybe, get better prepared for next year's holiday season.
My savings story
Work hard, play hard, right? If you're like most Americans, maybe not.
A new survey from Bankrate found that over half (52 percent) of all American workers who are given paid vacation days won't use all of their allotted days this year. Younger millennials especially plan on leaving a bunch of vacation days on the table, with 25 percent saying they won't be using any of their paid vacation days.
I get it.
When you're all about the hustle, you might think the only way to climb the corporate ladder is to work harder and longer than everyone else. And that's a total misperception. There's a big difference between working harder and working smarter, and the smarter you work, the more likely you are to get ahead.
So, how you can work smarter? By taking care of yourself. By taking all of the vacation time that's offered to you. Successful workers are the ones that strike a good work-life balance, and you can't do that if you throw away your vacation days.
Even if you can't afford to get out of town, take the time to go out with friends, decompress with family or even just Netflix-binge with your cat. Whatever it takes to disconnect, do it. When you get back to work, you'll be eager to tackle assignments and power through your deadlines, making you more productive than ever.
#Relatable
RATE SEARCH: Find a low-rate credit card today.