Beauty hacks that will save you money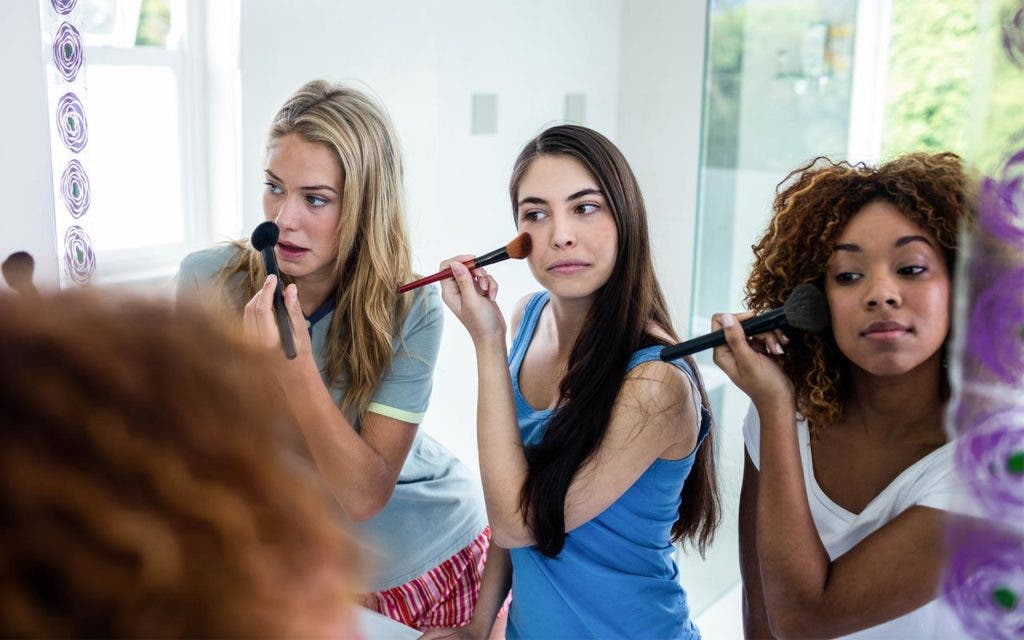 There's something to be said about looking your best.
When you're feeling on fleek, you tend to feel more productive, powerful and positive. Whether it's a new lipstick shade or a refreshing skincare routine that does it for you, investing in yourself is always a good idea.
All those beauty buys, though, can bust your bank account. But looking like a million bucks really shouldn't cost you that much. You can get #flawless frugally. I promise. This week, I show you how.
Also, I'm filling you in on why now is the perfect time to warm up with great deals on winter apparel, what you should do after you (finally!) get that raise and which supermodel is actually a savvy spender.
RATE SEARCH: Find the right rewards credit card for you, today.
Steal of the week
The steal: Your beauty routine. Because not everyone has a glam squad like Kim Kardashian.
Here's what you need to know: Makeup and skincare products are pricey! Getting glam shouldn't break your budget, though, and savvy makeup mavens know how to get the most for their money. Here are some easy ways you can get that, "I woke up like this" look, for less:
Stock up on most of your makeup essentials at the drugstore, but splurge on your one, go-to product! If you struggle with skincare, splurge on a good moisturizer or foundation, but use drugstore brands for your mascara, eyeliner and lipstick. It's all about spending in moderation.
If you're a label junkie, do your research. MAC will give you free lipstick if you return your six old makeup containers, and Stila sells refillable compacts, so you don't have to splurge on an entirely new product when you run out. Just buy the color itself and refill your compact!
A little DIY goes a long way, so do some research on how you can make beauty products yourself. You can even make facial masks from leftover food, like egg whites and avocados (I found some fun, DIY face masks here). Also, extend the life of existing products with a little DIY. If you're running low on mascara, warm the tube with a blow dryer to get every last drop, or mix your foundation with lotion to make it last a smidge longer.
If you love the look of pricey makeup brands like MAC, but aren't about the high costs, check out the Instagram account @Dupethat. It show you alternative cosmetic products almost identical to the pricey brands, for a lot less. The side-by-side-comparisons will make you believe in the power of drugstore makeup!
If you're always tempted to shell out cash on the next new thing, consider a subscription box service. You'll find new goodies without spending money on full-size products that end up not being right for you. My fave is Birchbox. For $10 a month, I get a fun box with five, travel-size beauty, grooming or lifestyle products selected just for me. It's a great way to experiment with new products without throwing away money. If a product works for me, I splurge on the full-size!
The easiest way to look your best? Develop healthy habits that don't cost a thing. Get plenty of sleep, drink lots of water and workout on the reg.
Bottom line: Makeup and beauty products for prices that won't make you blush? It's totally possible.
Where to save this week
Winter apparel
The temperature outside might be plummeting, but deals on winter apparel are really heating up.
Savvy, seasoned shoppers know that January is one of the best months to buy a winter coat or boots, when stores are making moves to push out their winter inventory before spring apparel comes in.
Major sales on winter apparel and outerwear are going on right now at Gap, Lands' End and Timberland. Read more about where you can warm up with great deals here.
On your entertainment
Last week, I filled my subscribers in on why I'm doing Dry January (hint: it has something to do with the sobering amount of money I'll be saving). In my best attempt to avoid happy hours and other outings spiked with something a little stronger than soda, I found some fun ways to entertain myself this month.
The best part? Most of them are free.
This month, I'm becoming a bookworm, and saving on my favorite titles by renting from the library, hosting a book swap or checking out discount sites like PaperBackSwap.com or BookBub.com. Other ways I plan on killing time? Volunteering, focusing on my fitness and immersing myself in the local culture.
Read more about how I'm spending my free time this month frugally here.
P.S. Last week, I filled my subscribers in on how they can get a slice of savings at one major pizza chain. Don't miss out on exclusive savings tips! Subscribe here.
Money idol of the week
Former supermodel Tyra Banks might have experience strutting down the catwalk, but she also knows a thing or two about managing money.
"I'm frugal," Banks told the New York Times in 2008. "I've always been this way. When I was young, my mom would give me my allowance, and I'd peel off a little each week and have some to spare."
Banks also told the NYT that, "One of the first things I ask when I hire someone who deals with the financials of the company is about their spending habits. How you spend money reveals a lot about you."
That's advice you can bank on.
RATE SEARCH: Shop today for the best credit cards from our partners.
My savings story
New year, new … salary? If you spent 2016 doing major #werk, you might see your salary skyrocket in the new year with a raise. But getting a raise can sometimes hurt your financial situation more than it helps it.
Huh? How can getting more dough actually dent your bank account?
It's called lifestyle creep, and it's a very real thing. Flush with cash, some people overdo it when it comes to spending, whether that means upgrading to a bigger apartment or nicer car. I've seen it happen firsthand, especially with younger professionals.
Getting a raise is exciting (and yes, you should definitely celebrate!), but pump the brakes before you start to make it rain. Living outside your means is a slippery slope, and could be detrimental to your finances.
I'm not trying to kill your vibe, but after you get a raise, take a step back and avoid the temptation to frivolously spend all that extra cash you now have in your budget.
Instead, consider increasing your retirement contributions and re-visit your budget. You can make strides toward being financially secure, while still having fun with the extra money you've so rightfully earned.
I explain the steps you should take after getting a raise here, so check out if you think a fatter salary is in your future. Here's to a richer 2017!
#Relatable
RATE SEARCH: Find a low-rate credit card today.