5 things I did before my trip to Cuba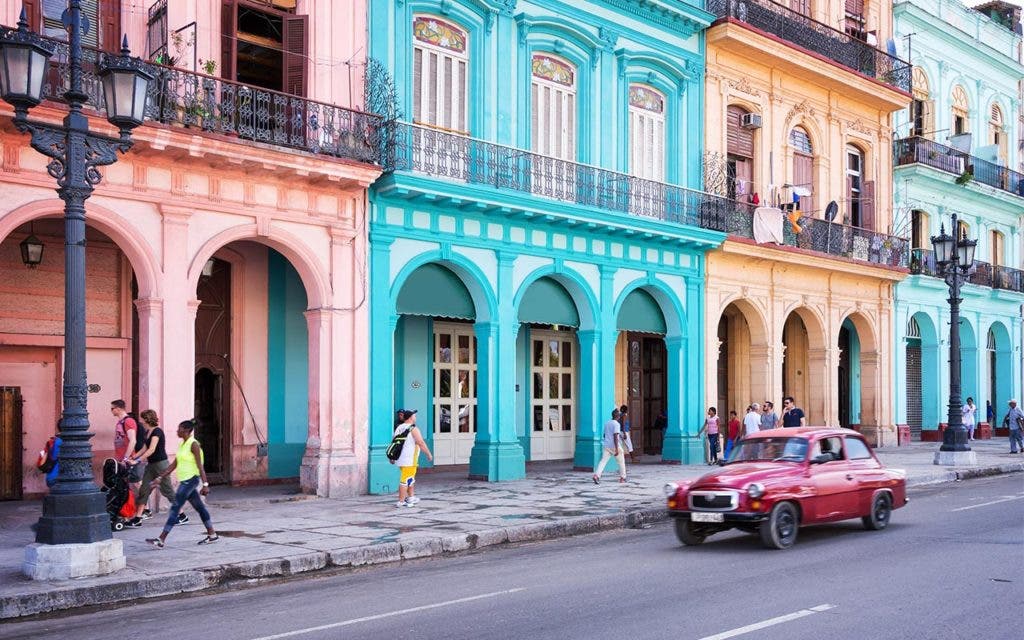 This year, one of my new year's resolutions was to get more stamps in my passport.
Seriously, who doesn't love to travel? Whether it's relaxing in Mexico with nothing to worry about but the ice melting too fast in my cocktail, or going off the beaten path in Europe and exploring new cities, globe-trotting never gets old.
If you've ever been wrecked with wanderlust, though, you know how pricey flights, hotels and tours are. And nothing makes you bail on your dream vacation faster than crunching the numbers and realizing traveling will tank your bank account.
This year, I'm determined to see more than the skyscrapers that tower over me on my morning commute, but still want to be as frugal as possible when it comes to my travels. That's why I'm choosing affordable places that might not be as famed as Paris or London, but still satisfy that travel itch I tend to get every couple of months.
Since I'm in desperate need of some vitamin D, my first stop of 2017 needs to give me a healthy dose of sunshine. So … drumroll, please … I'm headed to Havana, Cuba.
Traveling internationally takes research, budgeting and planning.
Here's what I did before my trip, and what you should be aware of if a trip to Havana is on your horizon.
I made sure I could go
Right now, if you're a U.S. citizen, you can't travel to Cuba for "tourist activities." In the past year, though, travel restrictions have eased a bit.
Currently, there are 12 categories of authorized travel to Cuba, which include reasons like family visits, journalistic activity, educational activities, religious activities and even "support for the Cuban people."
You can check out all the entry requirements here.
I subscribed to airlines' email lists
My travel buddy and I scored a major deal on our flight tickets because we are subscribed to JetBlue Airways' emails, so when there was a flash sale on tickets, we jumped at the chance.
JetBlue is far from the only airline that promotes its flash sales by email. Sign up to be on all your go-to airlines' email lists, so you never miss a sale.
These sales are called "flash" for a reason; they typically expire in a matter of days. I have a list of destinations on my bucket list, and whenever I get an email alerting me to a flash sale, I scan the list of cities and if I see a steal, I'm already mentally prepared to pull the trigger.
So how much was my round-trip, non-stop flight from New York City to Havana, including one checked bag? $180.
RATE SEARCH: Find the right rewards credit card for you, today.
I thought differently about lodging
Don't fall for the trap of booking the first hotel you find. Do your research!
Hotels in Havana are especially pricey, so we decided to forgo a traditional hotel and booked an Airbnb instead.
The price difference was significant. In many cases, one night at a hotel costed the same as our total, four-night stay at an Airbnb. For four nights in the middle of Havana, our Airbnb cost $269. Since it was split by two people, I'm only paying $135.
When booking an Airbnb, make sure to read the reviews of the host and research the area it's located in. Our host had 92 reviews, overwhelmingly positive, and the apartment was touted as being in a safe area. BOOM. We'll be living like locals, for less.
I prepared to use cash
At the moment, U.S.-backed credit and debit cards do not work in Cuba, so you'll need to carry all the cash you'll need for your stay. There are two forms of currency in Cuba, the Cuban Convertible Pesos (CUC) and the Cuba Pesos (CUP). Most tourists pay with CUC, according to travel site The Points Guy, while locals use CUP.
Exchanging money can be done at the airport or at a currency exchange house. There's a 10 percent tax when exchanging U.S. dollars to CUCs, so be sure to budget for that. If you're strapped for cash, consider converting your U.S. dollars to another currency, like Canadian dollars, before heading to Cuba to avoid the surcharge.
While this doesn't apply to trips to Cuba, it's a good idea to check your credit card's foreign transaction fees when traveling internationally.
Bankrate has a handy chart outlining foreign transaction fees for major credit cards here.
I made a budget
Regardless of where you're traveling, it's essential to have an idea of how much you will spend per day. Not all the tours we wanted to visit accepted reservations, but knowing admission fees helped give us a solid idea of how much we'll spend per day. You should do this for every place you travel, but in Havana when you're only carrying cash, this is necessary.
To get a clear picture of how much money we needed to budget per day, we booked a few tours and researched entrance fees at a few places. My travel amigo asked her friend who had been to Havana how much she spent per day, so we feel confident in the cash we budgeted.
Here's the thing about Havana: It's great for frugal travelers.
I booked a horseback riding tour through the tobacco fields of Viñales for only $5 per hour (!!), and most of the entrance fees of popular museums are just as cheap.
Another thing to take into account is all the fees you might incur, not just your entertainment expenses. When traveling to Cuba, you'll need to purchase a tourist card, as well as local Cuban health insurance. JetBlue offers tourist cards at the airport for $50, and the cost of health insurance is automatically included in your JetBlue fare (a $25 surcharge). Other things to consider when traveling internationally is whether to spring for an international phone plan or if you're fine settling for a Wi-Fi card.
Fees like this add up, and if you don't budget for them ahead of time, you can find yourself broke before you even get off the plane!
Do your research, plan and budget accordingly.
You'll be able to relax and have so much more fun if you're not stressing about running out of money.
RATE SEARCH: Find a low-rate credit card today.