4 ordinary people (and 1 cat) who went viral, got lucky and ended up rich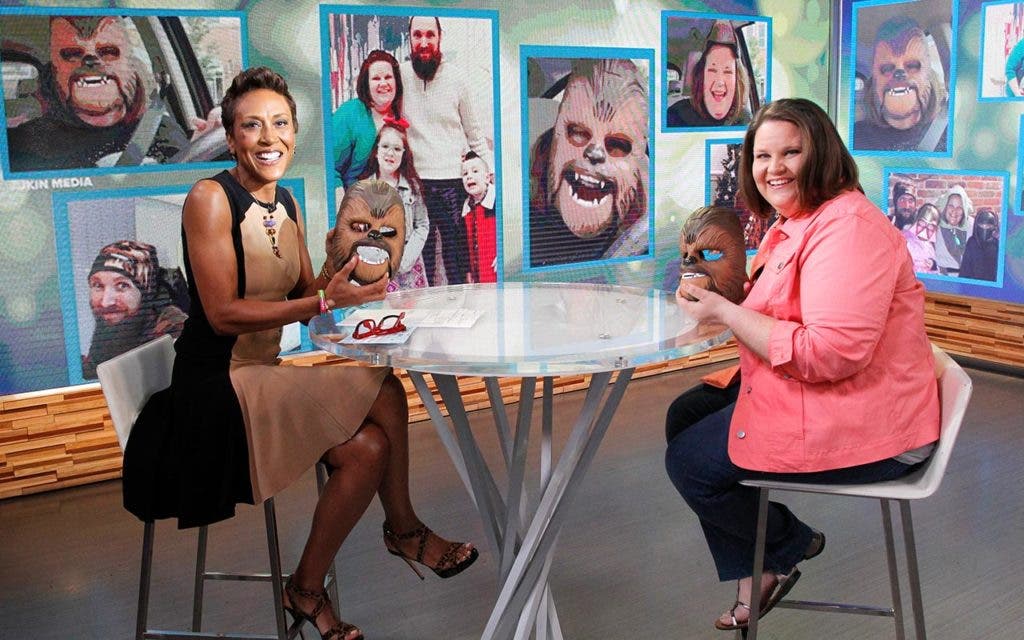 Some people are just really lucky.
With all those Vines, Reddit posts, YouTube videos and memes, the internet is teeming with ordinary people who could go viral any minute. All it takes is one (epic) video, photo or post to skyrocket someone to web stardom.
Here are four ordinary people (and one cat) who got lucky, went viral and really cashed in on their 15 minutes of fame.
Chewbacca Mom
If you want to reap thousands of dollars-worth of goodies, film yourself trying on a funny mask and laughing hysterically. That's what Candace Payne — a seemingly ordinary woman from Grand Prairie, Texas — did.
After trying on a "Star Wars" Chewbacca mask and posting a video of herself in a laughing fit on Facebook in May 2016, Payne gained national attention.
People were intrigued by her immense joy over the simple things in life.
After her home video went viral, Payne (dubbed "Chewbacca Mom") was showered with gifts.
She reportedly received $3,000 from Kohl's (which she name-drops in the viral video), a slew of trips to major cities like Los Angeles and New York City in order to appear on talk shows, and a free Walt Disney World vacation for her family. Chewbacca Mom even scored full-tuition college scholarships from Southeastern University for the entire family.
Most recently, Payne has a video series on TLC's TLCme and has a book slated to publish later this year.
Don't have celeb-sized savings yet? Compare high-yielding CDs.
Alex from Target
Sixteen-year-old Alex Lee from Frisco, Texas, simply was working behind the cash register at his job at Target when someone tweeted a picture of the attractive teen. The hashtag #AlexFromTarget emerged when the picture went viral, as teenagers nationwide swooned over the cashier.
In response to his new internet fame, Lee received interview requests from countless talk shows and was reportedly offered advertising deals and sponsorships.
In 2015, he posted a YouTube video stating his plans for the future, which included a national tour, line of merchandise, and ventures into acting and singing. He recently was tapped by NBC to help promote the second season of the Superstore, alongside other social media star alums. Lee continues to be popular on several social media platforms.
Hot Felon
Commit a crime, cash in. That's what happened when one convict's mug shot went viral.
When Jeremy Meeks' mug shot garnered national attention in 2014, he shot to stardom. Dubbed the "Hot Felon," Meeks was arrested for possessing an illegal firearm and spent 27 months in jail. He's since been released from jail and is cashing in on his good looks.
Quickly after his release, he was signed to Los Angeles-based modeling agency White Cross Management. Last month, Meeks made his runway debut during New York Fashion Week.
Rebecca Black
Rebecca Black, known for the catchy song "Friday," could be considered one of the first viral-video stars. Black made the music video when she was only 13 years old in 2011, and has since been riding the roller coaster ride of internet fame. She's appeared on many talk shows and even made a cameo in a Katy Perry music video.
Years later, Black has scored way more than just 15 minutes of fame. Black, now 19, has a wildly popular YouTube channel with over a million subscribers, and is still pursuing music. Her new single "The Great Divide" is currently ranked on the Top 40 of Billboard's Dance Club Chart.
Grumpy Cat
Some social media superstars are furrier than others.
"Grumpy Cat," a feline known for her adorable scowl, shot to stardom in 2012, thanks to a video posted on Reddit. The video took off, spurring modeling gigs, appearances and even book deals for Grumpy. In fact, a new line of Grumpy Cat toys recently launched at PetSmart.
It was estimated by one news outlet that Grumpy Cat generated a net worth of $100 million for her owner, Tabatha Bundesen. Bundesen has since disputed that number, but it's safe to say that Grumpy is definitely monetizing on her puurrr-fect pout.
If you go viral (or just need a place to stash your cash!), check out these high-yield savings accounts.