12 Father's Day gifts under $50 for every dynamite dad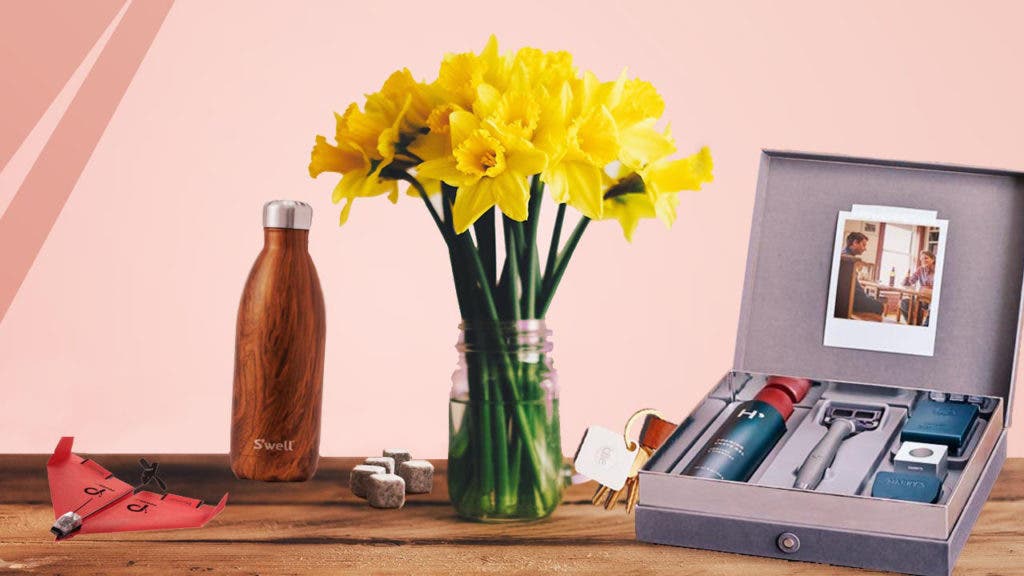 Hunting for the perfect gift for Father's Day can seriously be a strain when your dad deserves a private jet … and all you can afford is a spatula. So, I've scoured the Web for unique gifts — all under $50 — for every type of dad! Your frugality will definitely make your father proud.
For the tech geek
1. Tile App: Tile Slim, 1-pack currently on sale for $25
This super thin, square device acts as wireless key finder, wallet tracker, phone finder, luggage locator … whatever you want to attach it to! It's basically a virtual lost and found — perfect for the dad who's always misplacing his stuff.
2. Photojojo: Photojojo Sampler (2x Telephoto, Fisheye and Wide/Macro), $49
Can't afford to get your dad a fancy new camera? Transform his smartphone! Photojojo offers a wide variety of pro lenses that are easily attachable to any phone or device that has a lens on it. The Sampler in Photojojo's Magnetic iPhone and Android Lens Series will give him all the tools he'll need to be an Insta influencer in no time.
3. PowerUp Toys: PowerUp 3.0, $49
Bring your dad's paper airplane days back to life, but with a major upgrade. PowerUp Toys offers a variety of mobile controls that turn ordinary paper airplanes into tech toys. The 3.0 airplane has a durable, crash-proof design (according to the company), and allows your dad to use his smartphone to steer the airplane.
For the outdoorsman
4. S'well Bottle: 17 oz. Teakwood bottle, $35
Keep your dad trendy (and hydrated!) with a S'well bottle, which keeps liquids cool for 24 hours and hot for 12 hours. The Teakwood design in the Wood Collection will remind him of the great outdoors.
5. Spurcycle: Spurcycle Bell, $49
Is your dad a boss at biking? Get him this no-fuss bell, made out of brass and stainless steel. The company claims its tone lasts three times longer than that of its competitors, so you know your dad will be safe when he hits the bike path.
6. BioLite: BioLite KettlePot, $49
Your dad will be happy camper with this innovative cookware. The KettlePot "pours like a kettle and cooks like a pot, while doubling as a carry case" for BioLite's CampStove. Perfect for the camper who doesn't like to have to carry a bunch of gear.
For the dashing dad
7. Harry's: Father's Day Shave Set, $30
Keep your dad stylish, even when he's shaving. This sleek shaving set from Harry's looks as chic as his freshly shaved face, and you can even get it engraved for just $10 more.
8. Happy Socks: Heart Dad Sock, $12
Make like a millennial and gift your dad a pair of fun socks he can pair with his not-so-fun loafers. These socks are perfect for Father's Day; they feature blue hearts with DAD speckled all over them.
9. The Tie Bar: Rivington Dots tie, $19
Step up your dad's tie game with a punchy color and print. I love this fun dot pattern in the Wisteria color; perfect for the sunny summer months!
For the foodie and mixologist
10. SaloonBox: One month subscription for SaloonBox, $37
Is your dad a mixologist in the making? This is gift is perfect for him! SaloonBox's subscription service will hook your dad up with cocktail ingredients, top shelf spirits and recipe cards for fun, seasonal drinks, delivered right to his doorstep.
11. Williams Sonoma: Adjustable nonstick burger press, currently on sale for $12
Step up your dad's grill game by giving him the gear he needs for building the perfect burger. This adjustable, nonstick burger press is currently on sale at Williams Sonoma, giving you perfect patties in just a few seconds. Definitely a summer necessity.
12. Sur La Table: Whiskey stones (set of nine), $19
Is Dad finicky about his nightcap? Get him a set of whiskey stones, to keep his drink chilled without diluting it. He'll feel fancy even if he's just drinking from a Solo cup! I like this set of nine whiskey stones from Sur la Table. Cheers!
Now that his gift is covered, make dad even more proud. Go stash all that money you saved in a high-yield savings account!
And, get even more deals and gift ideas: Follow me on Facebook!