10 free date ideas perfect for Valentine's Day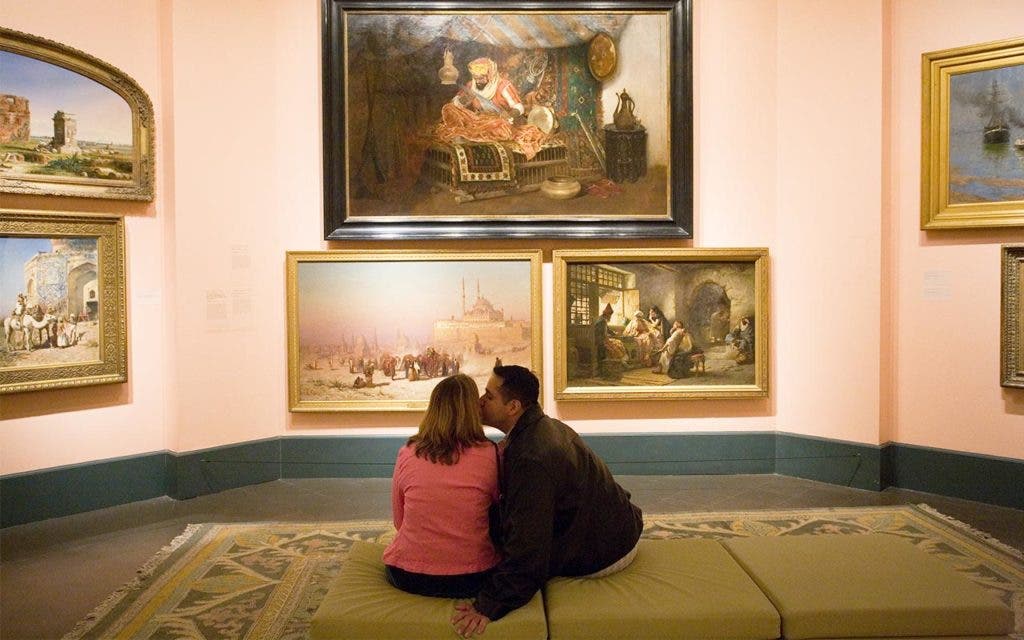 Dating can be brutal on your budget. But it doesn't have to be.
Whoever said "love doesn't cost a thing" might have been on to something. These fun, free date ideas are perfect for Valentine's Day and will score you points with your date for being creative and out-of-the-box.
Volunteer together
Giving back gives you endorphins, so why not enjoy that warm-and-fuzzy feeling together?
Volunteer at a local organization — whether it's dishing out food at a soup kitchen, playing with kittens at an animal shelter or helping build a home. It will be great to share a new experience.
Generosity looks good on everyone, and (selfishly) your date will likely be impressed with your giving spirit.
Hit the trail
Get outside! It might be the coldest season, but seriously … go for a walk in the winter wonderland.
Keep each other warm as you hike and enjoy the scenery. Research nearby (and free!) forest preserves, or check out free admission days at national parks near you.
Bonus points if you pack a Pinterest-worthy picnic complete with hot cocoa and marshmallows.
Take a free class
Learn something new together! It'll bring you closer.
Home Depot regularly holds free DIY workshops where you can learn to build your own furniture, how to paint the latest trends and how to install tile. Apple offers free hour-long workshops, where you can learn how to utilize all the latest tech toys.
Feast on free samples at farmers market
Feast for free at your local farmers market! Many booths offer free samples, so eat your heart out. It'll be fun to try all those funky, artisanal cheeses with your date. Farmers markets are a fun atmosphere, too, and serve as the perfect backdrop for photos.
RATE SEARCH: Find the right rewards credit card for you, today.
Check out geocaching
Check out the world's largest treasure hunt. The best part? It's free.
With Geocaching, players download the free app to hunt and find hidden "geocaches."
Geocaches contain a logbook for finders to sign, and sometimes even small trinkets and prizes. There are currently more than 2.8 million geocaches waiting to be found, so chances are, there's one near you.
Test drive your dream car
Put the pedal to the metal with your date, literally.
Go to a car dealership and compare dream cars … and ask if you can take it for a spin!
Talking about your dreams and goals in life (even if it's just a fancy set of wheels) will bring you closer, and it'll be fun to experience a taste of the good life together.
Explore open house mansions
After you leave the car dealership, continue to live the good life!
Research open houses (or mansions) near you, and swing by. It'll be fun pretending to live like the rich for a day, and you can dish with your date about fave homes and the ones you think are a flop.
Bonus point: Open houses also often have free refreshments!
Have a cook-off
Whip up a little love, as well as something tasty, in the kitchen! Hold your own cooking competition.
The challenge? Create something with only the current contents of your fridge and pantry. Whoever dishes out the best meal wins!
RATE SEARCH: Find a low-rate credit card today.
Go thrifting and hunt for the craziest outfit you can find
Thrift stores serve as the perfect spot for adventure; you never know what you might find!
Plan a day of thrifting, but don't buy anything.
Instead, take on the challenge of putting together the craziest outfit you can, and compete with your date on who can do it better! Have strangers judge who has the kookiest costume.
Take advantage of free museum days
Find out what free admission days are offered at local museums, and take a trip. It's a great way to spark conversation with your date, and a chance to explore some local culture.
If you're a Bank of America or Merrill Lynch cardholder, you're even eligible for free admission to over 150 cultural intuitions across the U.S. on the first full of weekend of every month.
RATE SEARCH: Shop today for the best credit cards from our partners.