What if Mom stole your identity?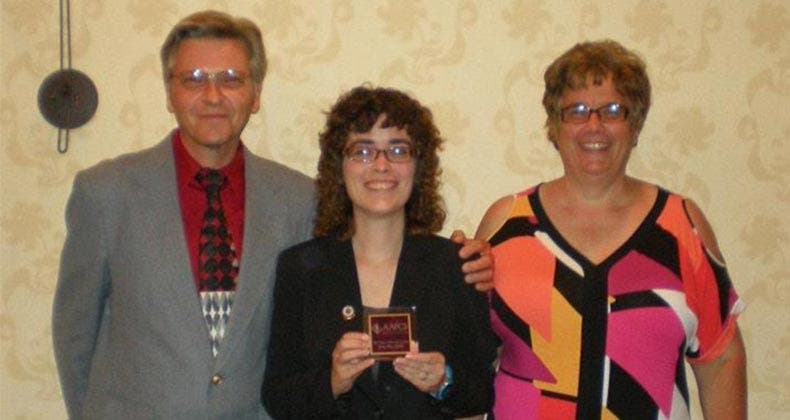 The trauma of having your personal data stolen from you, perhaps having your credit ruined as a result, is bad enough. Imagine discovering the identity thief is someone who claimed to have loved you.
Would you turn that person in to the police?
Axton Betz-Hamilton never got the chance. Betz-Hamilton's mother died before anyone learned she had defaulted on four credit cards taken out in her daughter's name, trashing her credit score for nearly a decade.
"I think of all the money I have had to spend on interest rates or other things throughout my adult life, and someone needs to be accountable for that," says Betz-Hamilton, an identity theft expert and assistant professor of consumer studies at Eastern Illinois University in Charleston. "She caused me financial harm."
Were she able to call the cops, Betz-Hamilton says she would not have hesitated. Would you?
FREE TOOL: Check your credit report now at myBankrate.
Millions of victims
A recent Bankrate national survey found that 41 million Americans have had their identities stolen. There is scant reliable data to show how many of those victims knew the person who stole their personal information.
But Eva Velasquez, president and CEO of the Identity Theft Resource Center, a San Diego-based non-profit, says her organization regularly talks to people who have been victimized by a parent, sibling or someone they knew.
One big hurdle for these victims is deciding whether to pursue legal action.
"Most want to be able to file a police report and alleviate the debt, but they don't want their family member to get in trouble," Velasquez says. "But that's just not a realistic outcome."
Creditors are not going to take it on faith that you've been victimized. You need to file a police report. And in order to file a police report, you need to truthfully say that you know your perpetrator.
"You're kind of at this fork in the road and you have two choices: You either report it or you don't," Betz-Hamilton says. "When you don't report that you have been a victim of identity theft, you're responsible."
Protect yourself beforehand
It's never a good idea to leave sensitive documents in the open, particularly if there's someone living in your house that perhaps doesn't deserve your trust.
Valasquez recommends locking away things like tax returns and Social Security cards. Don't leave things like credit card solicitations lying around, either.
If you do catch your family member stealing your personal information, you'll need to talk with others in the family before taking action.
"We all have family members that have issues, and that's the first part of the conversation," Velasquez says.
But know that making the call to police to report on your relative can tear a family apart, Betz-Hamilton says. Still, she says she would have made the call.
"I wanted to know who did it, and that's what really launched my professional career," she says.
"I've been obsessed with that question, 'Who did it?' since I was 11 years old."
Marcus opens shop
Marcus, the online lender from Wall Street titan Goldman Sachs, officially opened for business Thursday at Marcus.com — although you probably can't yet get a loan.
The company says on its website that Marcus will offer loans initially to people who receive an offer code in the mail. It is focusing on customers with a credit score above 660, according to The New York Times.
That's the minimum credit score you need to borrow from marketplace lender Lending Club, one of Marcus' main competitors in the field of online personal loans.
Marcus says it will offer APRs ranging from 5.99 percent to 22.99 percent on loans of up to $30,000 that last 24-72 months. Those interest rates are very competitive, but it's unclear how Marcus will measure creditworthiness.
When I applied for a loan at Prosper earlier this year, I was quoted a loan rate of 5.99 percent.
If I can get my hands on a code, I'll test it out to see if I can qualify for the same rate through Marcus.
RATE SEARCH: Find a personal loan today. Let Bankrate help.
Credit lines
Rapper Vince Staples knows what a good credit score means. It means not having to pay installation charges. It means getting respect from people who might not otherwise give it to you. It means qualifying for a low-interest loan.
"My credit score is looking crazy right now," he told KMEL-FM radio in San Francisco earlier this year.
How far does a great credit score take you? Perhaps Staples will buy an entire industry.
"If I can get my credit score to 800, I'm going to buy hip-hop. Off a little loan. Know what I mean?" Staples said. "City National Bank, a little low-interest loan, I'm going to buy hip-hop."
Significant digits
A new report out of the Federal Reserve Bank of Cleveland looks at small businesses' experience with online and brick-and-mortar lenders. I can't say that consumers have the same experience, but the numbers here are telling.
Some 85 percent of business owners say they were unsatisfied with the interest rate they received. Given the high interest rates consumer lenders offer for people with damaged credit scores, I can imagine there's a lot of dissatisfaction in this market as well.
NEW report looks at small businesses' experiences with online and traditional lenders https://t.co/cCrB1Iue48 pic.twitter.com/YcG7UC8HL7

— ClevelandFedResearch (@ClevFedResearch) October 13, 2016
Online lenders favor much better compared to their traditional lending cousins when it comes to wait time for a decision and the application process. These tend to be strengths online lenders tout.