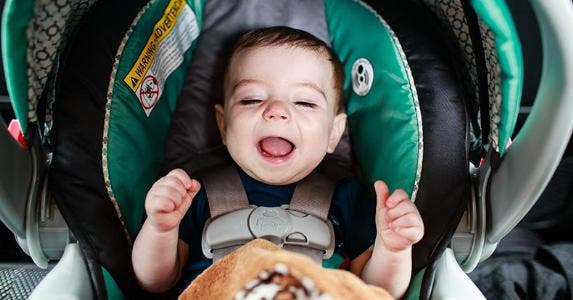 Dear Driving for Dollars,
I love the convenience of my 1-year-old's infant car seat with the base that stays in the car and the seat that can just click into place. I love how I can move her when she's sleeping, without disturbing her, whether it's to bring her in the house or to pop her in the stroller — seat and all. How long can I wait before I have to move her from the infant car seat to the other kind of children's car seat?
— Sophia
Dear Sophia,
The general rule of thumb always has been that it becomes necessary to move a child to the next size of car seat when he or she outgrows the height and/or weight requirements as stated by the manufacturer of the child seat.
RATE SEARCH: If you're looking for a car loan, check interest rates now at Bankrate.com.
While this is still true, new research by Consumer Reports has found that it is better to move your little one sooner rather than later.
Testing on a variety of car seats
New tests by the nonprofit found that the average 12-month-old was less likely to experience a head injury in a convertible car seat versus the infant car seat like the one you are currently using. A convertible car seat is a seat that can be used rear-facing, as well as forward-facing when the child is old enough. It is mounted directly into the car versus snapping into a base that is mounted in the car.
Consumer Reports recently tested a variety of convertible car seats installed rear-facing with a 22-pound dummy with the average height and weight of a 12-month-old and found the dummy experienced a head strike against the simulated front seat back in just 1 of the 25 models it tested (4% of the time), while previous tests of infant car seats with the same dummy resulted in a head strike in 16 of the 30 models tested, or 53% of the time.
RATE SEARCH: Comparing car loans? Check interest rates now at Bankrate.com.
Don't turn child forward-facing
So, while your 1-year-old may still fit just fine in her current infant seat and while you may love the convenience, it seems that it is safer to move her to the next level of car seat.
However, don't be tempted to turn her forward-facing just yet. The American Academy of Pediatrics recommends keeping all kids rear-facing in cars until age 2. It's also a law in several states.
Did you know that 73% of car seats are not used or installed correctly, according to Safe Kids Worldwide? Learn what you might be doing wrong with these 5 common car-seat mistakes.
Bankrate's content, including the guidance of its advice-and-expert columns and this website, is intended only to assist you with financial decisions. The content is broad in scope and does not consider your personal financial situation. Bankrate recommends that you seek the advice of advisers who are fully aware of your individual circumstances before making any final decisions or implementing any financial strategy. Please remember that your use of this website is governed by Bankrate's Terms of Use.