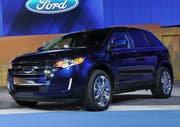 With less glitz than recent auto shows in Los Angeles or Detroit, the Chicago Auto Show highlighted several new cars this week aimed directly at everyday consumers, including a crossover, a minivan and a full-size sedan, as well as a sports car and a hot plug-in hybrid concept.
There were three new cars from Ford, including a redesigned Ford Edge crossover that's slated to arrive in showrooms this summer. The 2011 model features updated cabin styling as well as an available MyFord Touch system that utilizes touch pads instead of buttons for many functions, including audio and climate control systems. The 2011 Ford Edge also will offer three engine choices — previously only one engine was offered — including a 3.5-liter V-6 that is more powerful and more fuel efficient than the 2010 model, and a 305-horsepower, 3.7-liter V-6. In addition, an all-new turbocharged four-cylinder, featuring Ford's EcoBoost technology, will also be available. It will be more powerful than the current V-6 with 15 percent better fuel economy, according to Chevrolet, though it hasn't yet released official city and highway mileage numbers.
In addition, Ford introduced its 2011 Ford Shelby GT500. While it received only minor styling changes, it now gets 15 city/23 highway miles per gallon — a 1 mpg improvement for both city and highway. That's enough to remove it from the list of new cars that are levied a gas guzzler tax, amounting to an instant $1,000 savings for consumers. Ford also unveiled an electric version of its Transit Connect commercial minivan that goes on sale later this year.
Pickup truck enthusiasts will be excited about the 2011 Chevrolet Silverado HD as well as a new diesel engine in heavy-duty versions of Chevy's Silverado and the GMC Sierra for the 2011 model years. The new Silverado, which arrives in showrooms this summer, got a slight restyling as well as optional, new 18- or 20-inch wheels. Chevrolet says that the chassis and suspension have been fully redesigned to give it the greatest towing and hauling capacity of all trucks in the segment. In addition, Chevy's 6.6-liter, turbocharged Duramax diesel — available in both Silverado and Sierra — has been re-engineered to give it more power as well as an 11 percent improvement in fuel economy.
For those interested in full-size sedans, Toyota introduced its redesigned 2011 Toyota Avalon, arriving at dealers this spring. With both the exterior and interior restyled, the 2011 Avalon will be offered in two trim levels (there are three currently), including a base model that has upscale features like standard leather upholstery, dual-zone climate control and a backup camera. The 268-horsepower, 3.5-liter V-6 engine and six-speed transmission remain the same, but engineering changes improve the fuel economy by 1 mpg for both city and highway to 20 city/29 highway mpg from the 2010 model.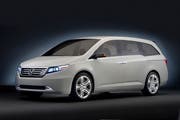 2011 Honda Odyssey
For the soccer-mom crowd, Honda unveiled its new Odyssey concept at the Chicago Auto Show. While officially called a concept car, Honda says the minivan features new exterior styling that will appear on the 2011 model, going on sale this fall. The redesigned model is lower, wider and longer with a more streamlined look than the current Odyssey and also features improved seating and interior storage. Honda says it expects the 2011 Odyssey to get 19 city/28 highway mpg, an improvement from 17 city/25 highway mpg for today's most fuel-efficient Odyssey models.
One concept car that did get some attention at the Chicago Auto Show came from Kia. The South Korean automaker took the wraps off its Ray concept car, providing a glimpse at its plans for a plug-in hybrid vehicle. The four-door, compact sedan features solar cells embedded in its glass roof to power the climate control system or additional lighting. The car runs on a 153-horsepower, 1.4-liter gas engine with direct injection and a 78-kilowatt, electric motor. Kia says the Ray can travel 50 miles as a pure-electric vehicle and has a total range of 746 miles.
Read more Driving for Dollars columns and Bankrate auto stories. If you have a car question, e-mail it to us at Driving for Dollars.