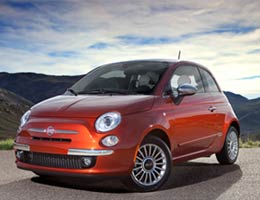 7 hip hatchbacks to tempt your teen driver
Hatchback 2012 Fiat 500 Sport
Price: $18,500
Gas mileage: 27 mpg city/34 mpg highway
A concerned parent might overlook the 2012 Fiat 500 because of its tidy package. It is small — smaller than a Mini Cooper — but it held up well in IIHS crash tests. Its standard equipment includes stability control and seven air bags.
Its 101-horsepower, 1.4-liter, four-cylinder engine requires nearly 11 seconds to pull it to 60 miles per hour from a standstill via the six-speed, driver-shiftable automatic transmission.
You can buy the entry-level 500 Pop for $2,000 less, but the Sport hatchback comes with some extras such as a Bose-infused audio system, Bluetooth connectivity and full iPod integration. Other convenience features, such as full power accessories, air conditioning, cruise control and a trip computer, are standard on every 500.
Your teenager will probably also like that the 500 has literally hundreds of paint, interior and graphic customizing combinations.