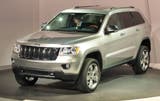 Detroit-based Chrysler, Ford and General Motors were recently awarded almost $38 million by the U.S. Department of Energy for projects to increase fuel economy in their gasoline-powered passenger cars. The overall goal is to improve passenger-car fuel economy by 25 percent to 40 percent by 2015 through changes to engines and powertrains. For the average American who drives about 12,000 miles a year, that could translate to a savings of up to $382 annually at the current national average gasoline price of $2.79 per gallon for a car that gets an average of 25 mpg.
The Chrysler Group was awarded $14.5 million to focus on developing a flexible combustion system for a future minivan or minivan-type vehicles, using a smaller, turbocharged engine. Chrysler, which has a reputation for building cars that are gas guzzlers, has been working for several years on more fuel-efficient engines. At the recent Detroit Auto Show, it showed several new engines to boost the fuel economy of all of its brands in the next couple of years. Among the engines on display was a new V-6 that boosts fuel economy by 8 percent over the current V-6. It will first appear in the 2011 Jeep Grand Cherokee, which is scheduled to go on sale by early summer.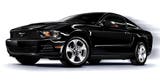 2011 Ford Mustang
For its projects to improve fuel efficiency, Ford was awarded $15 million for a project that will use various engine technologies to improve fuel economy by 25 percent in a gasoline-powered, mid- to large-sized sedan. Ford has been focusing on fuel efficiency for several years and it has improved fuel economy as well as reduced carbon dioxide emissions more than any other automaker in the last five years. This year alone it will introduce nine new or upgraded engines and six new transmissions in North America. Among the introductions will be a new V-6 engine for the 2011 Ford Mustang that Ford says will produce 305 horsepower and get 30 mpg on the highway, a 25 percent improvement over the 2010 model.
Not to be left out, General Motors received a $7.7 million award to develop an engine with advanced technologies that will provide a 25 percent fuel savings over the current Chevrolet Malibu. Today's Malibu achieves 17 mpg to 22 mpg in the city and 26 mpg to 33 mpg in highway driving depending on the model, so the new technology would bring results in a car that gets 21.25 mpg to 27.5 mpg in city driving and 32.5 mpg to 41.25 mpg in highway driving, bringing it more in line with the fuel economy that is typical of today's small cars but in a much larger sedan.
GM is also working on the fuel efficiency of many of its other vehicles, including its full-size trucks. It recently announced that it has plans to improve fuel economy in the redesigned versions of its Chevrolet Silverado and GMC Sierra, which are expected to be unveiled as 2013 models.
The government money for Detroit automakers was part of a larger $187 million announced to improve fuel efficiency in passenger cars as well as heavy-duty trucks. About $115 million was awarded to three companies focusing on improving the fuel efficiency of big rigs, while $71 million went to boost it on passenger cars.
Three large automotive suppliers also received awards for passenger car projects as part of the $71 million. Cummins Inc. of Columbus, Ind., received $15 million to develop a clean diesel engine that gets 40 percent better fuel economy over current gasoline engine technology and is significantly cleaner than the 2010 EPA emissions requirements. Troy, Mich.-based Delphi Automotive Systems was awarded $7.5 million to focus on several engine technologies designed to improve fuel economy by 25 percent. Finally, Robert Bosch of Farmington Hills, Mich., received nearly $12 million to work on a gasoline-powered, turbocharged engine with new technology that would lower emissions and provide a 30 percent improvement in fuel economy. Because these suppliers work with numerous automakers, the products that result from these projects could appear in many future U.S. passenger cars sold in the coming years.
Read more Driving for Dollars columns and Bankrate auto stories. If you have a car question, e-mail it to us at Driving for Dollars.