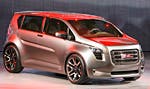 Some exciting new car choices are headed to showrooms soon now that they have been unveiled at the North American International Auto Show. Often referred to as the Detroit Auto Show, this annual event offered plenty to whet the appetites of car shoppers recently, with numerous new model versions, styling and concept cars from the domestic and foreign automakers. Here are some of the highlights.
General Motors made the biggest splash with its plentiful introductions. Perhaps the most unusual was the GMC Granite concept; a small, boxy van-like crossover with a wide side door for loading large objects. GM offered no comment on if it will be produced. The Buick Regal GS (short for Grand Sport), which is nearly identical to GM's Opel Insignia sold overseas, features a 255-horsepower, turbocharged four-cylinder engine and adaptive all-wheel drive. This new car offering will most likely go into production next year.
The Chevrolet Aveo RS concept is a sporty hatchback version that is longer and wider than the current model, providing a glimpse into the styling for the next-generation Aveo due next year. Cadillac unveiled the CTS-V coupe, a 556-horsepower, high-performance version of its small coupe, which will go on sale this summer. It also showed the Cadillac XTS Platinum concept, a plug-in hybrid that can run on the gas engine, the electric motor or both. The XTS sedan will replace Cadillac's DTS and STS sedans by the 2012 model year.
While Chrysler's next new car products, which will be Fiat-based, won't arrive until next year, the group used the Detroit Auto Show to unveil several new variations of existing models. Arriving this spring will be the V-6-powered Chrysler 300 S6 special edition and the Hemi V-8-powered Chrysler 300 S8 special edition, as well as the new Renegade version of the Jeep Liberty and the beach-themed Jeep Wrangler Islander. Arriving later this year will be the Mountain package for the Jeep Wrangler, a host of new packages for the Dodge Journey crossover and a redesigned interior on the Dodge Caliber.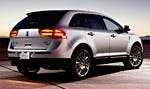 Lincoln MKX crossover
Ford's luxury brand Lincoln unveiled the made-over 2011 Lincoln MKX crossover. It now has the new MyLincoln Touch interface, which drivers use to operate the interior controls, as well as a 15 percent horsepower improvement, an improved ride and more second-row leg room. It goes on sale this summer.
BMW's Mini division showed its Beachcomber concept, a rugged, dune buggy-like four-seat crossover with all-wheel drive, which provides a glimpse into the design and styling of its Countryman crossover that arrives stateside next year. The Countryman is a larger, four-door, slightly more rugged version of the current Mini Cooper that BMW calls a crossover.
Honda took the wraps off the production version of its CR-Z, a sporty two-seat hybrid coupe, which arrives in showrooms this summer. It will be equipped with a six-speed manual transmission that's expected to achieve 31/37 (city/highway) mpg or an optional continuously variable transmission and steering-wheel-mounted shifters that's expected to get 36/38 (city/highway) mpg.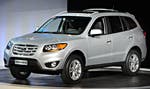 2010 Santa Fe
From Hyundai, show-goers saw the restyled 2010 Santa Fe. Along with new exterior styling, the Santa Fe has two new powertrains: a new four-cylinder engine that has better fuel economy and performance than the V-6 it replaces as well as a revised V-6 that also has improved fuel economy and performance. In addition, it showed the Blue-Will, a plug-in hybrid concept that hints at Hyundai's future direction in sedan styling as well as its future plug-in hybrid technology. If produced it would likely compete with the Toyota Prius.
For its part, Toyota unveiled a small hybrid concept called the FT-CH that featured what it described as retro-1980s styling. While there are no official plans for production, it said that it could be part of the "Prius family," a group of alternative fuel cars produced by Toyota.
Finally, Volkswagen unveiled a hybrid compact coupe concept, a four-seater that can get up to 45 mpg combined city and highway driving, while Nissan will add the Juke, a crossover smaller than its midsized Rogue, to its lineup this fall. Nissan said that more details will be released at the upcoming Geneva Auto Show.
Read more Driving for Dollars columns and Bankrate auto stories. Tara Baukus Mello is a freelance writer who has written about automotive topics of interest to consumers since 1995. If you have a car question, e-mail it to us at Driving for Dollars.