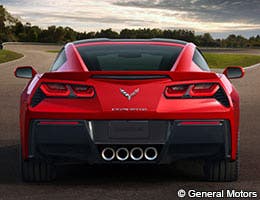 Innovation at the Detroit auto show
From features that improve fuel economy to gadgetry that makes driving safer, today's cars are filled with technology. Even so, there is plenty of room for improvement as automakers showcase their most innovative cars.
These cars, which were introduced at the 2013 North American International Auto Show in Detroit, highlight some of the more innovative features in the newest cars coming to showrooms near you. And, if you think these features are cool but are looking for them in a more budget-minded car, keep in mind that the latest technology starts with higher-end cars and gets incorporated into less expensive models as demand increases and production costs drop.
Here are Bankrate's choices for the five most innovative cars coming out of the Detroit auto show.
Cadillac ELR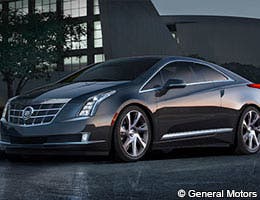 While it was Chevrolet that first introduced the extended-range electric vehicle technology used in the 2014 Cadillac ELR in its Chevy Volt, that doesn't make the ELR any less of an innovative car because Cadillac has taken the Volt concept and seriously upped the ante. Like the Volt, the Cadillac ELR features an electric motor paired with a small, onboard gasoline generator to power the motor when the battery is depleted, giving it a range of about 300 miles with average fuel economy similar to the Volt, which is 98 mpg. (Fuel economy estimates for the ELR were not available at press time.)
Creating an aerodynamic silhouette is the key to top fuel economy, so the front end is flush and the grille has "active" shutters that open when more power is needed and close when it isn't to reduce resistance. It also features an advance chassis and suspension system with lightweight forged aluminum components and continuous damping control, which adjusts every two milliseconds to optimize the ride and handling in all conditions.
On the inside, innovative features include Cadillac's CUE system, which operates key functions as well as connects to cellphones and wireless devices, using state-of-the-art natural voice recognition, capacitive touch buttons and hand gestures.
Chevrolet Corvette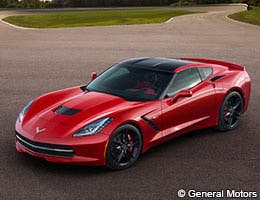 Despite the fact that the Chevrolet Corvette has been around for more than a half-century, the 2014 Chevrolet Corvette Stingray shares only two parts with the previous generation, which means that Chevrolet had plenty of room for new modifications.
This innovative car extensively uses composite materials for the body and underbody as well as an all-aluminum frame and even magnesium seat frames to reduce weight, increase stiffness, reduce noise, and improve ride and handling. Some of the most innovative features include the available dual-mode, active exhaust system, which has two additional valves that can open to increase engine performance and create a more powerful exhaust.
On the inside, there is a unique touch screen that can be operated via hand gestures and lowered to reveal a hidden storage compartment. There is also a driver mode selector knob for the driver to select five settings — tour, weather, eco, sport or track — to automatically adjust 12 different features, ranging from the gauge cluster to steering response to traction.
Ford Atlas Concept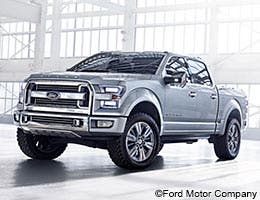 While function may be the key mantra for a pickup truck, that doesn't mean it can't be innovative, as shown in the Ford Atlas Concept, which provides a preview to what the Ford F-150 will feature when it is redesigned.
As with Fords already on the road, the Atlas' engine features auto start-stop technology, which shuts off the engine when stopped in traffic to save fuel, but this version of the technology knows when the pickup is towing and suspends the feature in that situation.
Other innovative features include active grille and wheel shutters, small shutters that close when the truck is moving at highway speeds, as well as power running boards that automatically tuck up against the body when the pickup is moving — all to reduce wind resistance and improve fuel economy.
For towing, there is trailer backup assist, which allows drivers to back up a trailer with the twist of a knob, and dynamic hitch assist, which uses a camera displayed on the truck's center screen to help line up the trailer hitch with the coupling. On the pickup bed, there are integrated 110-volt outlets, tie-down points and a roof-carrying system as well as hidden extendable ramps to ease loading.
Lexus IS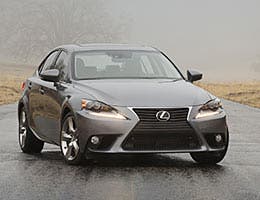 The redesigned 2014 Lexus IS sport sedan is full of innovations that emphasize the driving experience. The body features new, laser screw welding and adhesive body-bonding techniques — making it more rigid than the previous generation — while enhancing stability and improving the ride.
The IS 350 utilizes a 3.5-liter V-6 engine paired with an eight-speed automatic transmission that uses a system that notes the G-force and automatically selects the optimal gear and downshift pattern to maintain the proper gear through a corner when the car is in "sport" mode.
On the inside, technology features include an analog clock that illuminates, electrostatic climate control switches that are operated with a finger touch instead of a button or knob, and real-time traffic and weather delivered without a subscription to any service.
Mercedes-Benz E-Class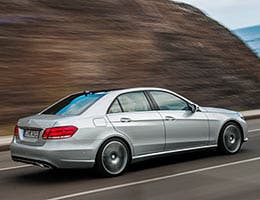 Mercedes-Benz has always been a technology leader and the 2014 Mercedes-Benz E-Class is no exception.
The redesigned model is loaded with innovative technology features grouped under what Mercedes calls its "intelligent drive" system. Among the innovations is a stereo multipurpose camera, which features two "eyes" at a 45-degree angle to provide a 3-D view up to 55 yards in front of the car with an overall range of 550 yards.
This camera watches for cars and pedestrians moving in front as well as oncoming and crossing traffic. The information is then sent to a variety of systems that respond accordingly.
For example, the brake assist systems, BAS Plus and Pre-Safe Plus, can now increase braking power as the driver depresses the pedal or even brake autonomously if pedestrians are detected. The Pre-Safe system also can apply the brakes to prevent a secondary accident in a rear-end collision.
Other innovative features include a surround-view camera that provides views of all four sides of the car and a virtual bird's eye perspective to assist with slow-speed maneuvering such as parking, as well as an active parking system that automates steering and brake control in parallel and perpendicular parking spaces.