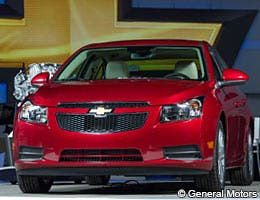 Great cars for consumers of every age
When putting together Bankrate's five best cars for all ages from the 2013 Chicago Auto Show, the key focus was on affordability, practicality and comfort, but focused on particular stages in life.
In addition, we factored in an unshakable fundamental of new-car marketing — that older consumers will buy cars targeting younger people, but younger consumers want cars they perceive to be for older people.
Historically, among the last things that a carmaker does when releasing a new or redesigned model is to establish city and highway mpg numbers as estimated by the Environmental Protection Agency and to put a price on it. Bankrate included those figures if they were available.
Every Bankrate pick also comes with air conditioning, power door locks, windows and outboard mirrors, a backup camera, and stability control. And each pick is either new or redesigned.
2014 Nissan Versa Note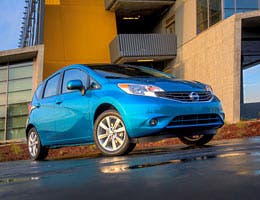 Base price:

$13,990

Gas mileage:

31 mpg city/40 mpg highway

Projected on-sale date:

June 2013
Although the Versa Note's small size might discourage older drivers, its value, cargo room and impressive fuel economy should make a teen or 20-something heading off to college or starting a career happy.
Able to carry up to five passengers, the car has best-in-class cargo space — more than 21 cubic feet that grows even larger with the 60/40-split rear seat folded flat.
Nissan offers the Versa Note in four model options. Included among the available features are heated front seats, leather-wrapped steering wheel, iPod interface, Bluetooth connectivity, navigation system and Nissan's Around View monitor that offers a 360-degree view around the car — a segment first.
Versa comes with available easy-fill tire alert that signals with the car's horn that the tire pressure has reached its optimum when filling up a tire.
Every Versa Note gets its go from a 109-horsepower 1.6-liter four-cylinder engine mated to a continuously variable automatic transmission — except for the base model, which has a five-speed manual.
2014 Kia Forte 5-Door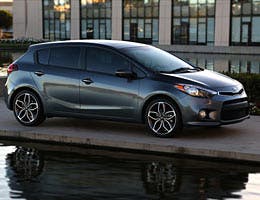 Base price:

To be announced

Gas mileage:

To be announced

Projected on-sale date:

Fall 2013
Unveiled at the Chicago Auto Show, the 2014 Forte 5-Door follows on the heels of the Forte Sedan, debuting at the Los Angeles Auto Show in December.
Drivers in their 30s just starting a family should be attracted to a five-door car that still has fetching styling and a high level of available technology.
Kia will offer the 5-Door in EX and SX model options. Each option has its own engine: a 173-horsepower 2-liter four-cylinder engine in the EX, and a more aggressive 201-horsepower 6-liter turbocharged four-cylinder in the sportier SX. A driver-shiftable, six-speed automatic transmission will be standard in the EX and optional in the SX. The SX will come with a standard six-speed manual.
Kia Forte comes standard with its UVO eServices interface with rear-camera display, Bluetooth connectivity and satellite radio. An optional navigation system is also available.
2014 Jeep Compass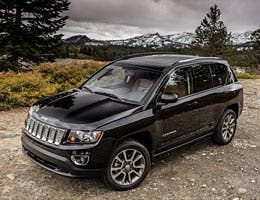 Price:

To be announced

Gas mileage:

To be announced

Projected on-sale date:

Spring 2013
The 2013 Jeep Compass retails starting at less than $20,000. The base price of the redesigned 2014 shouldn't be much more. That means it's affordable for a wide range of budgets. Compass is a go-anywhere, do-anything vehicle when properly equipped and has the interior for a family of 40-something parents with adolescent children.
Redesigned for 2014, the Compass features an all-new driver-shiftable, six-speed automatic transmission that's optional in the base Sport model and standard in the Latitude and Limited models. Standard in the Sport and Latitude is a 158-horsepower 2-liter four-cylinder engine. The Limited gets its go from a 172-horsepower 2.4-liter four-cylinder engine.
In addition to front-wheel drive, Compass can be fitted with either of two available four-wheel drive systems. With front-wheel drive, Jeep promises highway fuel economy of 30 mpg.
Standard in every Compass are hill-start assist, heated folding outboard mirrors, keyless entry and outside temperature display. Available features include heated front seats, 115-volt power inverter to run electrical equipment, leather seating, automatic climate control, power sunroof, Chrysler's Uconnect interface, Bluetooth connectivity and iPod interface.
2013 Mini Paceman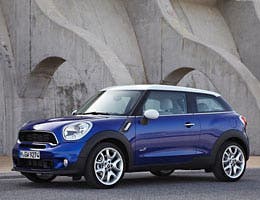 Base price:

$23,900

Gas mileage:

27 mpg city/35 mpg highway

Projected on-sale date:

Late winter 2013
Mini continues to expand its car lineup, and the Paceman represents its latest effort. At heart, it is a coupe version of the Countryman. It is even available with all-wheel drive like the Countryman. BMW also calls it a "sports activity coupe." In that spirit, it seats four.
Among the other differences setting it apart from Countryman are its shorter height and sloping roof, as well as the power window controls migrating from the center console to the doors. It's a sweet ride for a recent empty-nester or a 50-something going through a midlife crisis.
Although a 184-horsepower 1.6-liter turbocharged four-cylinder engine is available as an option, the standard power plant is the normally aspirated 122-horsepower 1.6-liter four-cylinder. A six-speed manual transmission is standard with a six-speed automatic optional.
Available features include power moon roof, rain-sensing wipers, xenon headlights, parking assist, navigation system and a Harman Kardon-infused audio system. Of course, like all Minis, the Paceman can be customized in a wide array of exterior and interior colors as well as hood stripes.
2014 Chevrolet Cruze Clean Turbo Diesel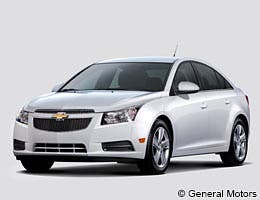 Base price:

$25,695

Gas mileage:

42 mpg highway (estimated)

Projected on-sale date:

Summer 2013
With the Cruze Diesel, Chevrolet has set its sights on the clean-diesel-powered car segment dominated by German imports — a bold endeavor to say the least. Decades have slipped by since a General Motors car last sported a diesel engine.
The posted price includes delivery charge and a two-year free maintenance plan.
Chevrolet hasn't released much information about this sedan it unveiled at the Chicago Auto Show beyond some engine specifications. However, it should have broad appeal due to its projected 42 mpg on the highway. The practicality of a sedan coupled with excellent fuel economy makes it perfect for retirement and beyond.
The most engaging small car to ever come out of GM, Cruze has been a home run for Chevrolet, and an ideal choice for GM's next attempt at diesel.
At the heart of this car is a 2-liter turbo-diesel that generates 148 horsepower. Torque is the grunt that gets the wheels turning, and this diesel cranks out an impressive 258 foot-pounds of peak torque. This is sufficient to deliver a zero to 60 mph time of 8.6 seconds by Chevrolet's stopwatch.