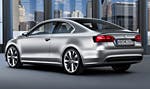 The alliance between Volkswagen AG and its latest partner, Suzuki Motor Corp, which included VW purchasing a 19.9 percent stake in Suzuki last month, is just the latest step that VW has taken in its quest to be the world's top automaker. The purchase of the Suzuki stake came just days after VW completed its purchase of 49.9 percent of Porsche AG.
Volkswagen has made no secret of its goal of ousting Toyota Motor Corp. from the top spot within eight years. Currently ranked third in the world in sales and the top automaker in Europe, VW is hoping its Suzuki alliance likely will mean a change in the car model lineup for both companies, not just in the U.S. but globally. VW will benefit from Suzuki's expertise in compact cars, while Suzuki will get a boost from VW's environmentally friendly alternative fuel technology.
The two automakers already have said they will partner to produce a small car that will be a strong competitor overseas, particularly in developing countries. Suzuki also might have an influence on a future production version of the Volkswagen New Compact Coupe, or NCC, a concept car that was unveiled at the Detroit Auto Show earlier this week. The NCC, which can be operated in either full electric or hybrid modes, gets 56 mpg with a 148-horsepower four-cylinder, turbocharged gas engine mated to a 20-killowatt electric motor.
In the U.S. this year, Volkswagen will end production of its iconic New Beetle with just 1,500 units each of the coupe and convertible versions of the New Beetle Final Edition. The final version of the Beetle will feature a unique paint scheme, sports suspension and 17-inch wheels. By 2011, VW has said it will bring its Polo subcompact to the U.S. The Polo, which looks like a small version of the Golf, was named 2010 European Car of the Year, a prestigious award that is selected by a group of 59 automotive journalists in Europe. In addition, redesigned versions of the Jetta sedan and Touareg crossover are also expected to arrive this fall as 2011 models.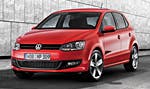 VW Polo
Looking ahead, VW has said it may bring the Phaeton luxury sedan back to the U.S. with a clean diesel powertrain. Introduced in 2003, the Phaeton, which was powered by a choice of a V-8 or a 12-cylinder gasoline engine, was pulled from the market in 2007 after slow sales. Volkswagen has already confirmed that the next generation of the Beetle will be powered by a clean diesel and will arrive in the U.S. as a 2012 model, while an electric version of the Up! Lite concept car will go on sale in the U.S. in 2014. The Up! Lite, a four-seat, diesel-electric hybrid that gets 70 mpg, will first go on sale in Europe in 2011.
Volkswagen has made long strides toward its goal to be the world's largest automaker, in part due to its rank as the top automaker in Europe and China. The brand is rapidly gaining popularity once again in the U.S., thanks to the success of its clean diesel technology, particularly in the Volkswagen Jetta TDI. It was so popular during the Cash for Clunkers craze last August that VW sold out its inventory.
The company is adding dealers as well as building a factory in Chattanooga, Tenn., which will build a new midsized sedan with a clean diesel engine beginning next year. With its efforts, VW intends to double its sales in the next couple of years, selling 400,000 to 450,000 vehicles in 2012-2013, Volkswagen of America Chief Executive Stefan Jacoby said at a recent media event.
Read more Driving for Dollars columns and Bankrate auto stories. Tara Baukus Mello is a freelance writer who has written about automotive topics of interest to consumers since 1995. If you have a car question, e-mail it to us at Driving for Dollars.