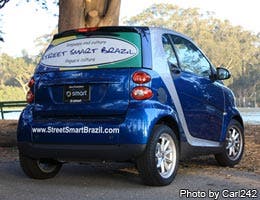 4 ways to help your car pay for itself
Some marketing companies will pay you to drive around with an advertisement on your vehicle, known as an auto wrap, says Brandon Clarke, a principal for Driven Media, a Phoenix marketing company.
Auto wraps are usually large vinyl decals that attach to the outside of a car. Owners typically earn $300 to $400 per month just for driving around, he says. "It gives somebody a chance to make extra money."
To participate in an ad campaign, contact a marketing company that specializes in placing auto wraps, Clarke says. Drivers usually have to fill out a questionnaire, describing their driving habits and regular routes, he says. In addition, many companies will conduct background checks.
Most drivers who are chosen for campaigns drive at least 1,000 miles per month, usually in high-traffic areas that cover the sponsoring company's niche market, he says.
The length of time the auto wrap is placed on the car varies. "We've done campaigns as short as eight weeks and as long as two years," Clarke says.
Clarke says candidates should be wary of businesses that charge drivers to sign up. "You shouldn't pay money just for a company to put your name in their database," Clarke says.