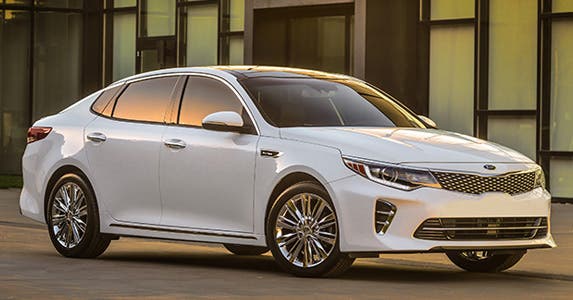 Hot new sedans for every budget
The most popular car type with American buyers, sedans come in a wide range of prices that suit a variety of family budgets. Bankrate saw all price points on display at the recent 2015 New York International Auto Show, ranging from an entry-level sedan with a surprisingly low price tag to full-size sedans with top-notch performance and luxury.
Whether you are looking for your first car, something family-friendly or a model your chauffeur can drive, there's something for everyone among the cars introduced in the Big Apple.
We previewed a number of new sedans at the show. Here are the top picks that stoked our fire, including models from Cadillac, Chevrolet, Jaguar, Kia, Lincoln, Nissan and Scion. Most of these cars will be in showrooms when the 2016 models arrive.
The New York Auto Show ran April 3-12.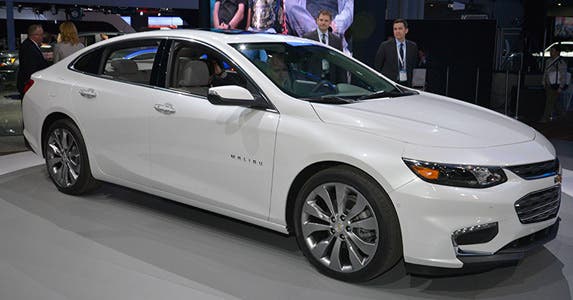 2016 Chevrolet Malibu
Taking some cues from the popular Chevrolet Impala, the redesigned 2016 Chevrolet Malibu has a 3.6-inch longer wheelbase than previous models, giving it a sleeker look and an additional 1.3 inches of rear-seat legroom.
The interior styling includes a redesigned center stack to better separate the infotainment system and the climate control panel, as well as a dedicated storage slot for cellphones. Satin chrome accents on the instrument panel and center console give the interior a more upscale look, while perforated leather seating and ventilated seats are available on some trim levels.
The Kansas-built sedan is designed with families in mind. Features include a built-in Wi-Fi mobile hot spot (data charges will apply), dual rear-seat USB ports, a power outlet and the new Teen Driver system, which allows parents to restrict some car functions and monitor kids' driving habits.
Three new powertrains are offered: a 160-horsepower, 1.5-liter turbocharged four-cylinder that GM estimates will get 27 city mpg (an 8 percent increase over the current model); a 250-horsepower, 2.0-liter turbocharged four-cylinder that GM estimates will get 22 city mpg; and a 182-horsepower hybrid powertrain that GM estimates will get 48 city mpg.
The all-gas versions are expected to go on sale this fall. The hybrid model will hit showrooms in 2016. Pricing wasn't announced, but the manufacturer's suggested retail price for the 2015 Chevrolet Malibu starts at $22,340.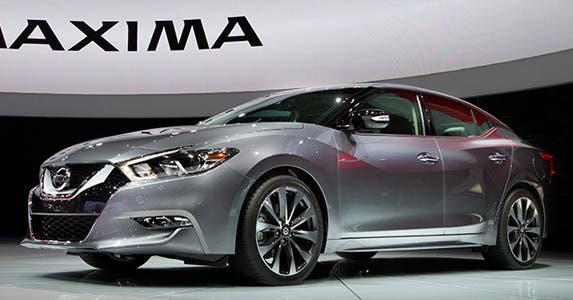 2016 Nissan Maxima
Nissan took the wraps off its thoroughly redesigned flagship sedan, the 2016 Nissan Maxima. The new styling reflects Nissan's new design direction and includes what it calls a "V-Motion" front end, boomerang headlights and a roofline that appears as if it floats.
There will be five trim levels, including the more upscale SL, SR and Platinum grades. Those trim levels include several available safety features, including a collision warning system and something the automaker calls Driver Attention Alert, which will warn motorists to take a break from driving if it senses the driver may be tired or drowsy.
The V-6 in the Maxima has also been redesigned. For 2016, it will be a 300-horsepower, 3.5-liter engine that Nissan expects will get 30 mpg on the highway — a 15 percent improvement over the current model. It will be paired with a new, performance-oriented transmission that has stronger acceleration from a standing start and can shift quicker at high throttle openings.
The 2016 Maxima is expected to hit showrooms in early summer with a starting price of $32,410.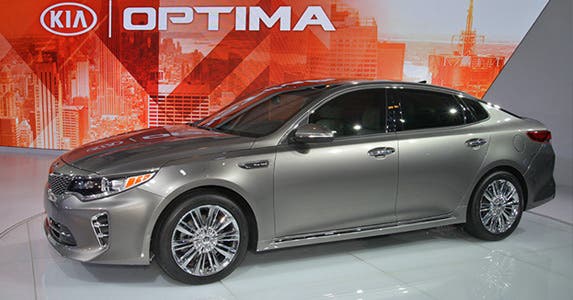 2016 Kia Optima
The Kia Optima was first introduced at the New York Auto Show five years ago. This year, Kia executives again used the Big Apple to unveil the redesigned, second generation of the midsize sedan.
The 2016 model is slightly longer, taller and wider, resulting in more headroom, shoulder room and rear-seat legroom, as well as additional trunk capacity, without compromising its athletic appearance.
Built in West Point, Georgia, the Optima has three engine choices. Two of the engines — the 2.4-liter four-cylinder and the 2.0-liter turbocharged four-cylinder — are available in the current model, but have been retuned for improved gas mileage and increased performance. New for 2016 is a 178-horsepower, 1.6-liter turbocharged four-cylinder paired with a seven-speed transmission that provides a sporty driving experience without compromising fuel economy.
New features include high-intensity headlights that follow the road around corners, a new seat design for improved comfort and heated and ventilated front seats. New technology includes features to monitor teen drivers (such as speed and curfew alerts), two fast-charging USB ports, a rear camera display with 360-degree view on some models and smartphone connectivity for Android Auto and Apple CarPlay.  
The all-new Optima is expected to go on sale late this year. Pricing wasn't announced, but the 2015 Optima starts at $21,690.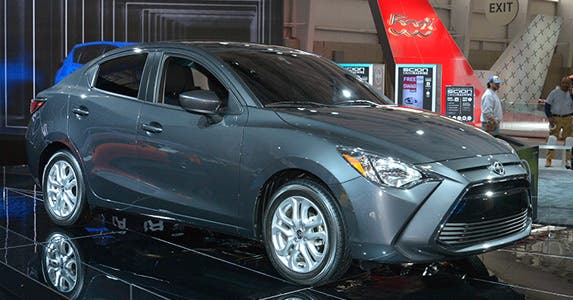 2016 Scion iA
Scion, the Toyota imprint known for its hatchbacks and boxy, small SUVs, has introduced its first-ever sedan: the Scion iA. At an entry-level price of around $16,000, this sedan has anything but entry-level looks.
It sports the familiar "face" of Scion, along with a sporty profile and the trunk in the rear instead of the hatchback style Scion is known for. It's loaded with safety features, including front-side and curtain air bags, rearview backup camera and a low-speed, collision-avoidance system that uses a laser sensor to minimize damage in an accident.
Powered by a 106-horsepower, 1.5-liter engine with a six-speed transmission in either manual or automatic, the new iA will get 37 mpg combined, according to manufacturer estimates.  
The standard audio system comes with a 7-inch display, a remote interface, voice recognition, two USB ports, an auxiliary input and apps including Pandora, Aha and Stitcher. Other standard comfort and convenience features include a folding rear seat to expand hauling capacity, keyless entry with push-button start, tilt and telescoping steering wheel and cruise control.
The 2016 Scion iA will arrive at dealerships late this year.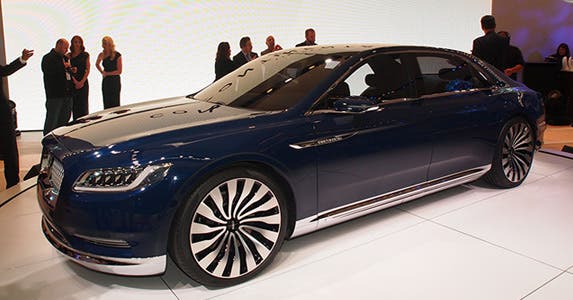 Lincoln Continental concept
It's been more than a decade since the last Continental came off the assembly line, but Lincoln says it's preparing an all-new version for the 2017 model year.
The Lincoln concept car senses you approaching and lights up — inside and out. The high-tech E-Latch door handles are almost hidden in the beltline, opening automatically with one touch and closing quietly. A SmartGlass tinting sunroof protects passengers from direct sunlight and heat with the push of a button. Power comes from a 3.0-liter V-6 engine with EcoBoost.
The interior exudes elegance, with leather seats and door panels, suede seat inserts and armrests, and a satin headliner. Front-seat occupants experience a new seat design that conforms to the occupants' size and shape, adjusting 30 different ways. Move the front passenger seat forward and the rear seat directly behind it fully reclines.
Rear passengers get their own climate control, as well as a surround-sound audio system, which offers three modes: stereo, audience and on-stage. Other luxury features in the rear include a Champagne storage compartment, a lap tray for supporting a tablet and detachable leather travel cases.
Lincoln did not announce pricing for the production version of the Continental, due out next year.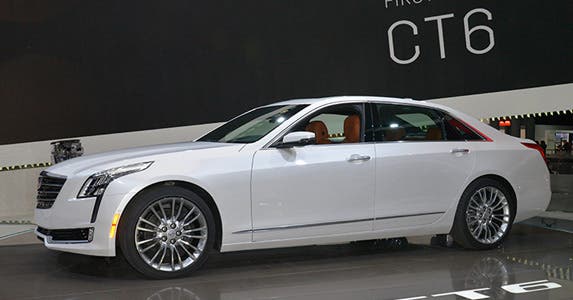 2016 Cadillac CT6
Cadillac unveiled its most luxurious sedan yet with the introduction of the 2016 Cadillac CT6, the top-of-the-line CT model. The carmaker aims to take on other top luxury sedans from BMW and Mercedes-Benz with this model.
The interior is rich with leather, exotic wood and carbon fiber and includes such features as massaging seats in both front and rear, reclining rear seats, a generous 40.4 inches of rear-seat legroom and a climate control system that allows each occupant to customize temperature and airflow.
Along with its top-notch luxury, the CT6 is also a top-notch performer. General Motors claims the CT6 is one of the lightest, most agile, full-size sedans, built out of 11 different lightweight materials that make it weigh less than smaller performance sedans, without compromising safety.
Drivers can take advantage of a steering system that promotes stability and control and driver-selectable models to customize the driving experience. It comes with a choice of three engines: a 2.0-liter turbocharged I-4; a 3.6-liter V-6; and the top-of-the-line 3.0-liter, twin-turbo V-6 with an estimated 400 horsepower and cylinder deactivation to improve fuel economy.
High-tech features include surround-view video recording that can record in the front and rear when driving, as well as 360 degrees when the car is parked and the security system is activated, wireless phone charging and the CUE touch screen that recognizes handwriting.
GM says production will begin at the end of the year. Pricing has not been announced.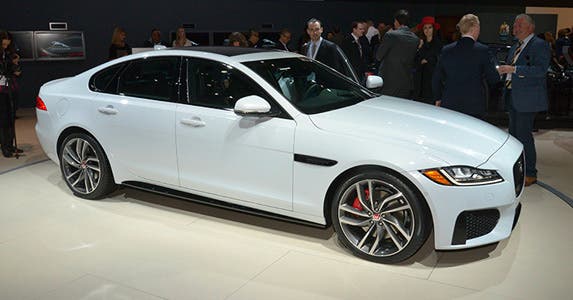 2016 Jaguar XF
Jaguar redesigned its large XF sedan from the ground up. Positioned between the midsize Jaguar XE and the full-size Jaguar XJ, this coupe-like sedan has a longer wheelbase but is shorter overall than the current model. Rear passengers will notice the result of the redesign, which includes more rear legroom and knee room, as well as 1.1 inches of rear headroom.
With the body and chassis now extensively using aluminum, the 2016 XF is lighter than the current model, as well as quieter and stiffer. New features such as electric power-assisted steering combined with the increased chassis stiffness result in improved ride quality and better handling, more in line with the Jaguar F-Type. Also shared with the F-Type are two versions of a 3.0-liter supercharged V-6 that produce 340 and 380 horsepower, respectively. Both are available in either rear-wheel or all-wheel drive.
While both are paired with eight-speed transmissions, the XF S model with the 380-horsepower engine can travel from zero to 60 mph in 5.1 seconds.
There's no shortage of luxury in this performance sedan. The XF features a laser heads-up display that projects speed and navigation onto the windshield, semi-automated assistance for perpendicular and parallel parking, and a monitoring system that issues a warning when the computer senses a driver is drowsy.
The 2016 Jaguar XF will arrive at dealerships this fall. Jaguar didn't announce pricing, but the 2015 Jaguar XF starts at $57,175.