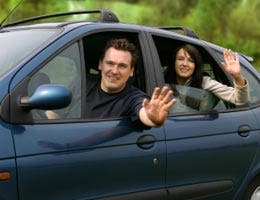 Different cars for different needs
While the 2011 model year cars have just rolled in, there are still plenty of great deals to be had on these new models without busting the budget. Here are five great deals that each meet different car shopper needs — all priced under $25,000.
Luxury for less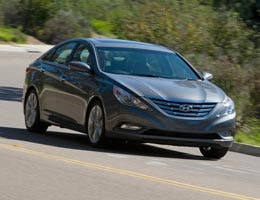 Sedan: Hyundai Sonata
If you like the styling and features of higher-priced luxury sedans but not the price tag, the 2011 Hyundai Sonata is for you. Its new exterior has lines akin to a luxury import, and a wide array of luxury features are available without hurting your wallet.
With a starting price of just $19,195, the Hyundai Sonata has always been a great value. It's currently selling at about 10 percent below the manufacturer's suggested retail price, or MSRP, on average, according to TrueCar.com.
Redesigned for the 2011 model year, the Sonata has new, more distinctive exterior styling and improved fuel economy, getting an EPA-estimated 24 city/35 highway mpg. Powered by a 198-horsepower, 2.4-liter, four-cylinder engine, the Sonata is a solid performer with a comfortable ride. Even the top-of-the-line model is just $25,295 MSRP and comes with such luxury features as dual-zone automatic climate control, leather seats and a premium sound system.
All Hyundai cars come with five years or 60,000 miles of free roadside assistance. Through Nov. 30, car shoppers can lease a Sonata for $199 a month with $2,399 due at signing.
For an affordable sports car performance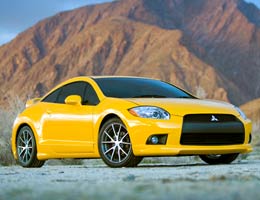 Sporty Car: Mitsubishi Eclipse
If you want a car that shouts "fun," then you'll love the 2011 Mitsubishi Eclipse for its curvy styling and road-hugging ride.
Starting at just $18,999, the Mitsubishi Eclipse is one of the most affordable sports cars on the market. It's currently selling at about 15 percent below MSRP on average, according to TrueCar.com. This sleek ride is powered by either a 162-horsepower, 2.4-liter, four-cylinder engine or a 265-horsepower, 3.8-liter, V-6 engine. All Eclipse models come with air conditioning, MP3 capability, electronic stability control and six air bags.
The upscale GS Sport model, $24,928 MSRP, was added last year and features leather seats, heated front seats and a power driver's seat. Mitsubishi is offering $1,000 cash back or 2.9 percent financing for 48 months on the 2011 Eclipse through Nov. 30.
For young families on the go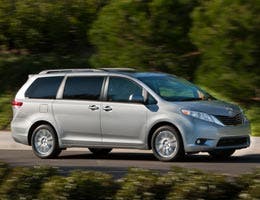 Minivan: Toyota Sienna
For families with young children, a minivan is the ideal car thanks to its kid-friendly sliding doors, easy step-in height and wide range of convenience features. The new 2011 Toyota Sienna minivan offers all of these things and has the capability of carrying three kids in car seats — still leaving room for older kids in the third row or extra cargo with the third row folded.
Starting at $24,460, the Toyota Sienna is currently selling at about 7 percent off MSRP on average, according to TrueCar.com. Redesigned for 2011, the Sienna is equipped with either a 187-horsepower, 2.7-liter, four-cylinder engine with 19 city/24 highway mpg or a 266-horsepower, 3.5-liter, V-6 with 16 city/22 highway mpg. It seats seven or eight, depending on the configuration. The second-row seats slide independently forward and backward to allow the driver to further separate the seats of bickering children. All Toyota models currently have free maintenance and roadside assistance plans that last for two years or 25,000 miles. There are lease promotions currently offered on Sienna models that vary depending on your location.
For families with teens
SUV/CUV: Ford Flex
For families with tweens or teens, they have friends — and that means you need a car that can accommodate a group of adult-sized (or near it) passengers. Unlike other crossover SUVs that have a sleeker look, the 2011 Ford Flex offers plenty of headroom and legroom.
While its $29,075 MSRP starting price is above our $25,000 mark, a base Ford Flex is selling at 14 percent below sticker on average, according to TrueCar.com. This brings the final sales price within our target.
Thanks to its boxy styling, the Ford Flex seats seven — and they can all be adults and be comfortable. Other standard features include front and rear air conditioning, ambient lighting, six air bags, a rear backup sensor, and stability and traction control. The base model SE is powered by a 262-horsepower, 3.5-liter, V-6 that gets 17 city/24 highway mpg. Ford is currently offering up to $3,500 in incentives or zero percent financing on the Flex through the end of the year.
A pickup for do-it-yourselfers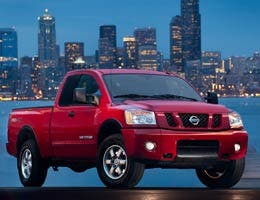 Pickup: Nissan Titan
Whether you are remodeling your home, doing landscaping or towing a trailer, the 2011 Nissan Titan suits every need of the do-it-yourselfer.
Starting at $26,820, the Nissan Titan is currently selling at about 23 percent off its sticker price, according to TrueCar.com. Overdue for a redesign and competing against the freshly redesigned Chevrolet Silverado and Ford F-150, the Titan has seen slow sales, leading to good deals.
All Titan models have four doors and 60/40-split bench-seat in the rear. The Nissan Titan is powered by a 317-horsepower, 5.6-liter, V-8 engine and has a towing capacity of up to 9,500 pounds. The 2011 models now have standard side curtain air bags, electronic stability control and a feature that uses the antilock brakes to act like a limited slip differential. Through Nov. 30, Nissan is offering up to $4,000 cash back or zero percent financing on 2011 Titans.
Additional resources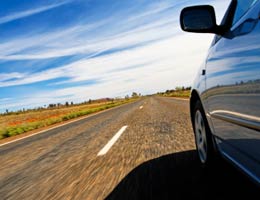 For more information on autos, check out these stories at Bankrate.com.