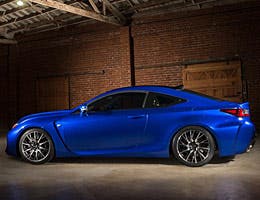 Cars for every car enthusiast to covet
They are the cars that grace auto calendars. The cars that people get distracted by when they are next to them at a stoplight. The cars that people purposefully walk by when they see them in parking lots.
They are cars to covet and they come in every body style, though they are often quite powerful and quite expensive. Check out these covet-worthy cars from the recent 2014 North American International Auto Show in Detroit, but you may want to have a napkin handy to wipe the drool from your face.
For the best auto loans, check out Bankrate.com.
Chevrolet Corvette Z06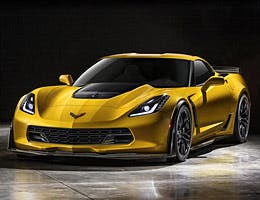 Chevrolet exerted some serious American muscle when it introduced the 2015 Chevrolet Corvette Z06, effectively leaving the new Corvette Stingray in the dust.
The new Z06 offers world-class performance thanks to a supercharged 6.2-liter engine — a first for a Corvette — that will produce at least 625 horsepower when it goes into production. It will be paired with a choice of a seven-speed manual transmission, which gives the driver more control thanks to Active Rev Matching that enables perfect shifts, or a new eight-speed automatic that provides comfort and drivability combined with quick shifts and manual control paddle shifters for track driving.
Despite the extremely powerful engine, the Corvette Z06 maximizes fuel efficiency thanks to direct injection, cylinder deactivation and continuously variable valve timing. For those who want to take their cars on the track, the available Z07 Performance Package provides greater aerodynamic downforce, better gripping tires and track-worthy brakes.
Compared to the Stingray, the 2015 Chevrolet Corvette Z06 has wider tires, extended fenders and a unique rear fascia. Inside, the Z06 features a unique color scheme and a flat-bottomed steering wheel, but like the Stingray, there are two seating choices — one for comfort and one for better support on the track. Pricing and launch date for sale have not been announced.
Mercedes-Benz S600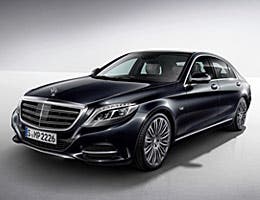 The top model from Mercedes-Benz has gotten even more powerful and more luxurious. The 2015 Mercedes-Benz S600 now features a 523-horsepower, 6-liter V-12 engine — up from 510-horsepower, 5.5-liters — with a standard start-stop function to maximize fuel efficiency.
The top model of the Mercedes-Benz S-Class line, the super-luxurious sedan now has standard Collision Prevention Assist Plus, which applies the brakes automatically at speeds up to 124 mph to reduce the severity of a collision. In addition, an available electric windshield heater is designed to keep the windshield clear, even at subzero temperatures, eliminating the need for scraping.
On the inside, there is a head-up display which projects important data, such as speed, on the windshield as well as a touchpad in the center console that allows the car's features to be controlled at the touch of a finger, including by actually handwriting letters, numbers and special characters. The 2015 Mercedes-Benz S600 will go on sale in spring 2014. Pricing has not been announced.
Lexus RC F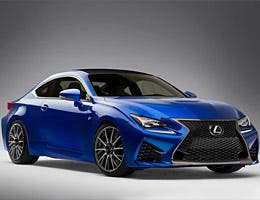 Lexus revealed its most powerful V-8 engine yet in its new 2015 Lexus RC F performance coupe. Based on the RC coupe, the F performance model is powered by a 450-horsepower, 5-liter V-8 engine that is paired with an eight-speed sports direct shift transmission designed to improve throttle response.
The 2015 Lexus RC F also features a Torque Vectoring Differential, a first for Lexus, which has three operating modes: standard, for a balance of performance and stability; slalom, for an emphasis on steering response; and track, for stability while the driver is on the throttle.
While the RC F is styled similarly to the regular RC coupe, it features its own distinct Lexus spindle grille with a subtle F-mesh pattern on the lower half, a unique hood that changes the car's profile and an active rear spoiler on the trunk to improve downforce at speeds of more than 50 mph.
Inside, there is an elliptical cross-section, thick-grip steering wheel and new, supportive, high-back seats. Pricing and on-sale date have not been announced.
Bentley Continental GT V8 S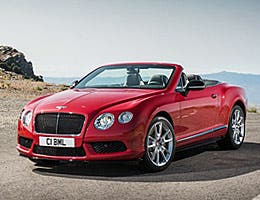 As if the regular Continental GT weren't enough, Bentley unveiled the Continental GT V8 S, an even more powerful version than its sibling.
Available as a coupe or convertible, the 2015 Bentley Continental GT V8 S is powered by a 521-horsepower, 4-liter, twin-turbocharged V-8 that is mated to an eight-speed automatic transmission.
Switch into S mode and the already powerful car gets even more spirited by holding the gears longer with faster shifts and a sharpened throttle response, traveling zero to 60 mph in just 4.3 seconds in the coupe models. Pricing and sale launch date have not been announced.
Porsche 911 Targa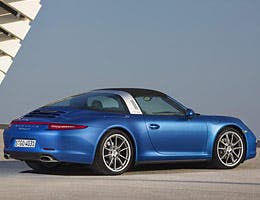 Porsche introduced two new models in its 911 lineup at the recent North American International Auto Show in Detroit.
The 2014 Porsche 911 Targa 4 and 911 Targa 4S combine the classic Targa design from 1965 with cutting-edge technology. Like the original Targa, the 2014 versions feature the distinctive movable front roof section and wraparound rear window, but it is fully powered in the modern version with the fully automatic roof stowing behind the rear seats.
The 2014 Porsche 911 Targa 4 is powered by a 350-horsepower, 3.4-liter, six-cylinder engine, while the Targa 4S gets a 400-horsepower, 3.8-liter, six-cylinder. It will go on sale this summer with a starting price of $101,600 for the 911 Targa 4 and $116,200 for the 911 Targa 4S.

More On The Detroit Auto Show: