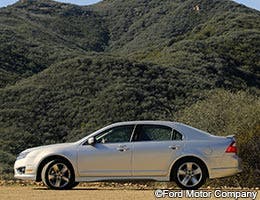 Used cars for frugal senior citizens
While buying a used car is a very individual experience, with each car buyer looking to meet a specific set of criteria, Bankrate took a look at the common factors in car buying that most senior citizens consider to select the five best used cars.
Each of these cars is a Top Safety Pick of the Insurance Institute for Highway Safety, has good fuel economy for its class, is considered reliable, has average or better ownership costs, is affordable, and has a lengthy list of features that appeal to older drivers, including ease of getting in and out.
For Bankrate's list, we chose all 2010 model-year used cars because a 3-year-old model has already completed most of its depreciation yet is still low enough in mileage to have plenty of life left. Furthermore, cars of this age are eligible for extended warranties or can be purchased as manufacturer-certified preowned cars, which can help protect seniors from expensive car repair bills down the road. Our pricing estimates are courtesy of Edmunds.com and represent the national average starting price for each model if it is sold in a private-party transaction, is designated "certified preowned," or is sold at the dealer but is not a CPO.
Ford Fusion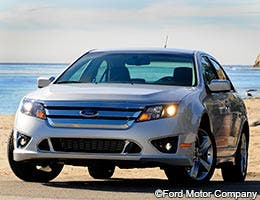 Private party:

$12,195

Dealer retail:

$13,309

Certified preowned:

$14,094
Ford redesigned its Fusion for the 2010 model year, and while it's still a midsize sedan, it has more passenger and luggage capacity than the Toyota Camry.
The more upscale and contemporary redesign included redesigning the seats to improve comfort and side support, and the gauges to feature daytime backlighting for easier readability. The 2010 Ford Fusion is powered by one of three gasoline engine choices — a 2.5-liter four-cylinder, a 3-liter V-6 and a 3.5-liter V-6 — as well as a hybrid powertrain.
Exclusive features include Ford's voice-activated, hands-free communication and entertainment system called SYNC; voice-activated navigation with Sirius TravelLink, which offers real-time traffic and weather, fuel prices and entertainment information such as movie times and sports scores; a capless fuel system, which does not require removing the gas cap to refuel; and a cabin air filter that removes irritants and toxins. Safety features include a backup camera and a blind-spot monitoring system with rear cross traffic alerts.
Hyundai Tucson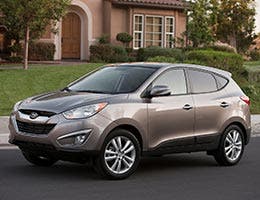 Private party:

$13,843

Dealer retail:

$15,096

Certified preowned:

$16,642
Redesigned for 2010, the Tucson midsize crossover features a European design that will remain fresh in the coming years. The athletic design of this used car was also paired with chassis changes to improve handling, body roll control and steering responsiveness.
While it is slightly longer than the Honda CR-V, which improves its cargo space, it has a smaller turning circle, making it easier to park.
The 176-horsepower 2.4-liter four-cylinder engine in the 2010 Hyundai Tucson has the same power and acceleration as the previous generation's V-6 but with 20 percent better fuel economy than the four-cylinder engine used in the prior model. When equipped with the six-speed automatic transmission, it gets 23 mpg in the city and 31 mpg on the highway, making it more fuel-efficient than the Ford Escape, Honda CR-V, Nissan Rogue and Toyota RAV4. All-wheel-drive models are rated at 21 mpg city and 28 mpg highway.
The 2010 Tucson has a lower overall height than the previous model. There is also improved legroom in the front and rear, and improved headroom for rear-seat passengers.
Toyota Avalon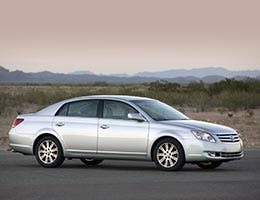 Private party:

$16,286

Dealer retail:

$17,981

Certified preowned:

$19,368
For older drivers looking for a large, used sedan with lots of luxury amenities but without the luxury price, the Toyota Avalon is a great choice. All models come equipped with dual-zone climate control, eight-way adjustable driver's seat, automatic up/down power windows, reclining rear seats, steering-wheel-mounted audio and climate controls, and a nine-speaker audio system with six-disc CD changer and auxiliary jacks for iPod and MP3 devices.
The Avalon's exterior design features chrome touches for an elegant look, while the overall shape has been optimized to reduce wind noise and vibration, making the interior exceptionally quiet.
While the 2010 Toyota Avalon is as spacious as its competitors, with 40.9 inches of rear-seat legroom, it has the driving dynamics of a smaller car, making it easier to maneuver. It is powered by a 268-horsepower 3.5-liter V-6 engine that gets an estimated 19 city mpg and 28 highway mpg.
Volvo S80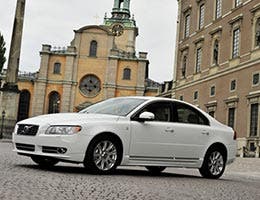 Private party:

$19,260

Dealer retail:

$20,710

Certified preowned:

$22,975
Luxury brand Volvo offers both elegance and top-notch safety in all its models, and its flagship sedan, the S80, is a great choice for older drivers.
Innovative safety features include side air bags with dual chambers for enhanced hip and chest protection, seats that aim to reduce whiplash in a rear impact, and a unique steel structure that uses four grades of steel for optimum energy absorption. While always quite luxurious with soft leather seats and door panels, Volvo has taken things one step further for 2010 with a new silk matte metal finish on the steering wheel, gear selector and starter button.
Engineers have also improved ride and handling on all models, while models equipped with the new sport chassis will get an even more exhilarating driving experience. There are three engine choices for the S80, including all-wheel-drive versions.
For 2010, the list of luxury features got longer, with certain models now featuring a premium audio system with surround sound and rear headphone jacks, and a navigation system with remote control.
Chevrolet Equinox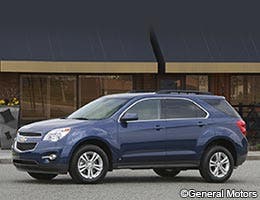 Private party:

$14,939

Dealer retail:

$16,224

Certified preowned:

$17,362
For seniors who prefer a higher ride height or a more flexible interior than in most used cars, the Chevrolet Equinox compact crossover fits the bill nicely. Redesigned for 2010, the Chevrolet Equinox features design elements from the Chevrolet Malibu sedan and the larger Chevrolet Traverse crossover while adding two new, more fuel-efficient engines.
The 2010 Chevrolet Equinox is powered by a choice of a 182-horsepower 2.4-liter engine with an Environmental Protection Agency-estimated 22 mpg city and 32 mpg highway, a 33 percent improvement over the prior model, or a 264-horsepower 3-liter V-6 that gets 17 mpg city and 25 mpg highway. They are paired with a six-speed automatic transmission designed to maximize fuel economy.
Drivers will find it easy to get comfortable with a power-adjustable seat height, a tilt-telescopic steering wheel and 10 inches of room for seat movement, while the MultiFlex rear seat can be moved 8 inches back and forth to optimize legroom or rear cargo space.
Standard features include electronic stability control; plentiful storage bins, including one large enough to hold a purse or laptop computer; traction control; six air bags; and a "smart" remote start feature that activates the climate control and optional heated seats, depending on outside temperature.