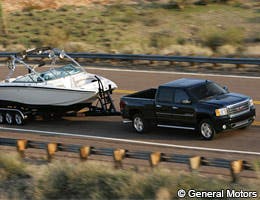 Trucks for heavy hauling
Heavy-duty trucks and "green" don't seem likely bedfellows, but in Bankrate's five bad-boy work trucks for heavy hauling, you have a lineup of workhorse trucks packing gobs of creature comforts and fuel-efficient diesel engines.
Trucks are classified according to the combined weight of the vehicle plus the total weight, or payload, of the other items — passengers, cargo, fuel and so forth — it can safely transport. This is referred to as a vehicle's GVWR, or gross vehicle weight rating. It doesn't include anything the vehicle might tow, but often the higher the GVWR, the heavier load it can pull.
The pickups on this list have a GVWR from 8,501 pounds to 10,000 pounds, qualifying them as "heavy duty." Bankrate also tossed in a heavy-duty diesel-powered van for fun.
Because these trucks are heavy enough to fall outside the government's requirements for reporting city/highway fuel economy, fuel-economy numbers aren't available. But diesels historically deliver better fuel economy than comparably powerful V-8s.
Some picks are 2014s and some 2013s. Listed pickup-truck prices are for the diesel-powered, four-door crew cabs with automatic transmissions and don't include delivery fees.
2014 Chevrolet Silverado 2500HD Crew Cab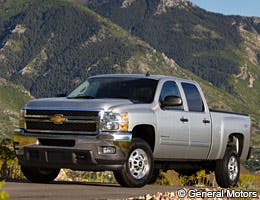 Price:

$41,990

GVWR:

10,000 pounds

Max. payload:

3,037 pounds

Max. towing:

17,400 pounds
Chevrolet redesigned its Silverado for 2014. It comes in several models and body styles, but the price and content here is for the entry-level WT for "work truck." It has easy-to-clean vinyl seats and a vinyl floor covering that can be hosed out.
Although it's missing a few creature comforts, such as power windows and door locks, it's well-equipped with work features such as trailer sway control, integrated trailer brake control, hill start assist and automatic grade braking. Air conditioning and a four-speaker audio system are also standard. Wi-Fi, iPod connectivity, Bluetooth and satellite radio are available.
Operating on regular diesel or B20 biodiesel, its 6.6-liter Duramax turbo-diesel V-8 delivers 397 horsepower via a six-speed automatic transmission. In hauling and towing, torque is the grunt that gets the wheels turning and this V-8 generates a generous 765 foot-pounds of it.
2014 Ford F-250 XLT Crew Cab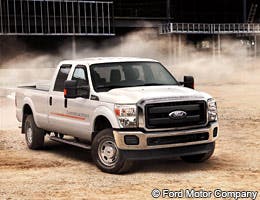 Price:

$46,405

GVWR:

9,900 pounds

Max. payload:

3,540 pounds

Max. towing:

16,300 pounds
The F-250 listed here is the mid-level XLT Crew Cab. Ford has historically boasted the best-selling pickup in the F-150. The F-250 builds on that momentum and reputation.
The F-250 uses a 6.7-liter turbo-diesel V-8 for its power and there's plenty of that. A six-speed automatic transmission funnels the V-8's 400 horsepower and 800 foot-pounds of asphalt-crushing torque to the rear wheels.
With XLT, you get a normal array of convenience amenities, such as power windows, door locks and outboard mirrors, air conditioning, cruise control and an audio system with iPod connectivity. The split rear-bench seat folds for more cargo space.
Ford's SYNC voice command interface for cellphones and the audio system is standard. A number of other technologies are available, like Crew Chief, which includes an onboard computer providing fleet managers with real-time data for vehicle location, diagnostics and driver behavior.
2013 Ram 2500 SLT Crew Cab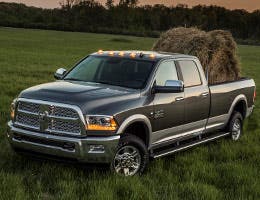 Price:

$45,015

GVWR:

10,000 pounds

Max. payload:

3,020 pounds

Max. towing:

17,850 pounds
That the Cummins Turbo Diesel in the Ram 2500 is a six cylinder is pretty amazing considering its 370 horsepower and whopping 800 foot-pounds of maximum torque. It also gives nothing away to its key competitors in payload and towing capacity.
It's the only truck on this list offering a manual transmission as standard equipment, but it's priced here with the six-speed automatic required with the turbo diesel.
The SLT is toward the bottom of Ram's pack of models but still includes some comfort features, such as air conditioning, power windows, door locks and heated mirrors, cloth seats, and a six-speaker audio system with satellite radio and iPod input jack.
Ram 2500 owners who want to bump up the technology can opt for one of the available Uconnect audio platforms that can include Bluetooth connectivity, direct access to 911 emergency responders, Wi-Fi hotspot and a bevy of other techo-goodies.
2014 GMC Sierra 2500HD Denali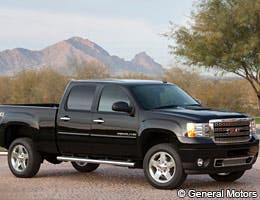 Price:

$55,465

GVWR:

10,000 pounds

Max. payload:

2,871 pounds

Max. towing:

16,500 pounds
There's no question that GMC bred the Sierra 2500HD Denali for owners who are as likely to drive their big, honkin' pickup to the country club for cocktails as they are pulling their Airstream trailer to the lake. Think of it as a tuxedo-clad heavy-duty truck.
It shares its Duramax turbo-diesel V-8 and six-speed automatic transmission with the Chevrolet Silverado 2500HD, getting the same 397 horsepower and 765 foot-pounds of torque. Despite its civilized manners, it still can do a full day's work with plenty of hauling and pulling capability.
Its cabin is roomy and comfortable.
Upping the passenger amenities considerably, it comes with heated/cooled front leather seating, dual-zone automatic climate control, and a Bose-infused audio system with iPod connectivity and satellite radio. Bluetooth connectivity is also standard. Options include a rear-seat entertainment system, navigation system and rear-view back-up camera.
2013 Mercedes-Benz Sprinter Cargo Van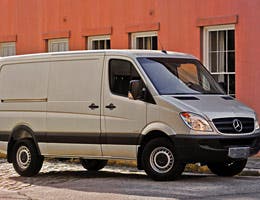 Price:

$36,290

GVWR:

8,550 pounds

Max. payload:

3,426 pounds

Max. towing:

5,000 pounds
There is no blurring of the line between personal use and work with the Sprinter. It's a bare-bones work platform with very little in the way of standard convenience features. For the listed price, it comes with air conditioning, an AM/FM two-speaker audio system and a tilt-and-telescoping steering wheel. The standard cargo floor is wood.
There are longer versions, as well as high-roof models that even a six-footer can stand in.
It's up to the buyer to equip it from a wide selection of extra-cost packages, configuring it for specific uses. The $615 premium package, for example, includes power/heated outboard mirrors, cruise control and upgraded seats.
When the 2014s hit showrooms, the standard engine will be a 161-horsepower four-cylinder diesel. The 2013 standard-equipment 188-horsepower six-cylinder diesel will stay on as an option. It makes 325 foot-pounds of torque. A five-speed automatic transmission turns the rear wheels.