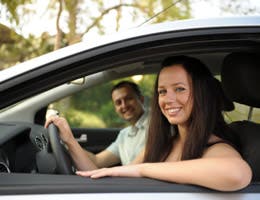 10 top new cars for summer road trips
If you're planning a family road trip, maybe it's time to consider making a station wagon your next station wagon.
Why should what's thought of as your mother's station wagon be thought of when buying a new car? Well, minivans were "The Next Station Wagon" when they became the typical American family car in the 1980s, and SUVs took over the label in the '90s and earlier this decade. But sales of SUVs peaked in 2004, as rising gas prices and changing tastes drove them out of favor.
For the coming decade, "crossovers" are expected to rein in that title role by combining the seating capacity of a minivan, the high seating position of an SUV, and the gas mileage, ride and handling of a … well, of a station wagon.
Here's our list of 10 best new cars for family road trips this year:
Acura TSX Sport Wagon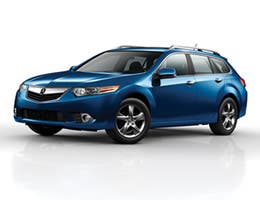 Type: Wagon
Family-friendly feature: Cargo area
Pricing: To be announced
On sale: October
The Acura TSX Sport Wagon isn't very big, but it has room for four (five in a pinch) and it makes clever use of space, with storage areas behind a side panel in the cargo area, and room under the floor. If the trade-off is size, the payoff is an estimated 30 mpg on the highway, thanks to a four-cylinder engine with a five-speed automatic transmission. Standard features include leather seats. A surround-sound entertainment system is optional.
BMW X5 Diesel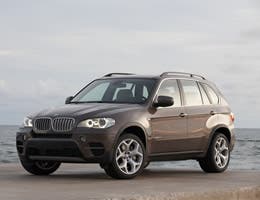 Type: Crossover
Family-friendly feature: Close to 600 miles between fill-ups
Pricing: $52,175 (2010 model)
On sale: Now
Facelifted for 2011, the BMW X5 goes on sale in May 2010, with a couple of new engine options and updated exterior styling. Well-heeled dads who don't like to make frequent stops might consider the diesel version, the BMW X5 xDrive35d, an all-wheel-drive model with a 3.0-liter, six-cylinder, turbocharged diesel engine. It gets 26 mpg on the highway, about 24 percent better than the six-cylinder gasoline model. That gives the diesel a range of close to 600 miles between stops — assuming your passengers can hold out that long.
Cadillac CTS-V Sport Wagon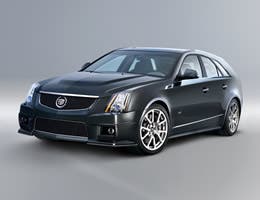 Type: Wagon
Family-friendly feature: Utility, but gets you there fast.
Pricing: To be announced
On sale: Late 2010
The CTS-V Sport Wagon is for the family that likes its road trips fast. Cadillac italicizes the "V" and says the series is Cadillac's answer to high-performance European cars, like BMW's "M" division or Mercedes-Benz's AMG. The CTS-V Sport Wagon has a supercharged, 6.2-liter V-8 engine that delivers a whopping 556 horsepower — more than four times the power of a Toyota Prius. The bad news: It only gets an estimated 14 mpg city/19 mpg highway.
Dodge Grand Caravan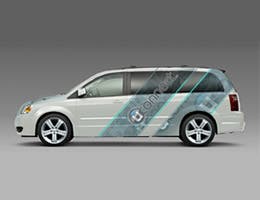 Type: Minivan
Family-friendly feature: FLO TV (optional)
Pricing: $23,995
On sale: Now
You can buy the Dodge Grand Caravan with a wide array of electronic options, but without the decals as shown at left. The list includes Uconnect in-car Internet access and FLO TV Auto Entertainment — live television without the large antenna earlier systems required. It's available as a $629 option in eight 2010 models, such as Chrysler and Dodge minivans. Programming includes live sports, breaking news, kids' programs and prime-time network shows — visible from the back seat only. Reception requires a subscription and is best in about 100 major cities and along interstate highways.
Ford Flex
Type: Crossover
Family-friendly feature: Refrigerator (optional)
Pricing: $29,225
On sale: Now
With the Flex, Ford wants to tap into the emotional attachment Baby Boomers felt for their 1960s family wagon. Modern touches include three rows of seats and distinctive, squared-off styling. The second-row seats can be ordered with a center-console refrigerator-freezer. It's a $795 option on the pricier, upscale "Limited" version, or as part of a more expensive package that includes other options, like four glass panels in the roof.
Infiniti QX56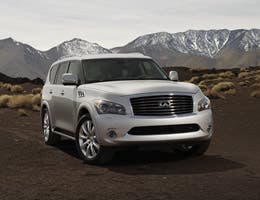 Type: SUV
Family-friendly feature: Posh seating
Pricing: $57,565
On sale: July
The all-new 2011 QX56 has a long list of electronic gadgets that the Japanese brands excel in, like a Bluetooth system with hands-free phone and streaming audio, optional video screens and a navigation system that includes data from the Zagat Survey restaurant guide. But it's the big, cushy leather seats that will keep passengers happy for a long road trip. Even the folding third-row seats recline. The new model gets a new V-8 engine that gets 25 percent more power than the engine it replaces, at 400 horsepower, but 10 percent better gas mileage. The bad news is, that's still only about 13 mpg city/20 mpg highway for the new model.
Lincoln MKT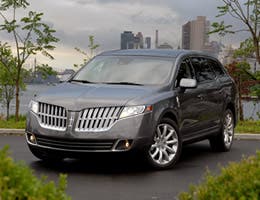 Type: Crossover
Family-friendly feature: Home-theater style entertainment system (optional)
Pricing: $44,495
On sale: Now
The MKT can carry up to seven people and has an (optional) over-the-top, surround sound and video entertainment system with 14 speakers — a $1,995 option by itself, or part of a $4,000 option package that also includes navigation, a panoramic sunroof and a blind spot monitoring system. The entertainment upgrade includes video screens behind each of the front headrests that can show two different movies or video games at the same time, with headphones. Meanwhile, the front-seat passengers can listen to something else. The optional system also is said to greatly improve music played from MP3 players.
Mercedes-Benz E350 4Matic Wagon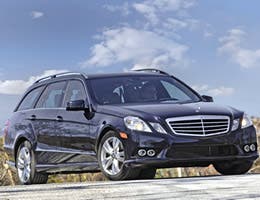 Type: Wagon
Family-friendly feature: Flexible seating, cargo space
Pricing: Mid-$50,000s
On sale: June 2010
Mercedes-Benz, known for station wagons since the launch of the first E-Class wagon in 1977, unveiled its new E350 4Matic Wagon at the New York Auto Show. It's based on an all-new generation of the E-Class sedan, which just came out in the United States for the 2010 model year. The E350 4Matic Wagon — 4Matic means all-wheel drive — is expected to sell well in the Northeast where wagons have kept some of their popularity. Besides all-new styling with sharper edges and a sportier-looking front end, the new wagon is much easier to use than the model it replaces, in terms of flipping the rear seats up or down, to switch between room for passengers and room for cargo.
Porsche Cayenne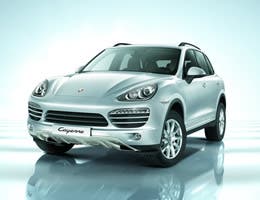 Type: Crossover
Family-friendly feature: Sliding, reclining back seats
Pricing: $46,700
On sale: July (2011 model; 2010 model on sale now)
A new generation of the Porsche Cayenne for the 2011 model year debuts this summer, and variants will include Porsche's first gasoline-electric hybrid, something Porsche purists may never thought they'd see. Prices will range from the Cayenne S at $46,700 to the more powerful Cayenne Turbo, at $104,800. The new model has a longer wheelbase, which also allows the rear bench seats to slide back and forth up to six inches. The rear seat backs also adjust — they don't lie almost flat like first-class airline seats, but the extra room does make for a much more comfortable back seat.
Volkswagen Touareg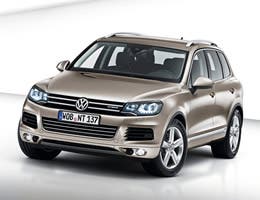 Type: Crossover
Family-friendly feature: Added safety features
Pricing: $41,650 (2010 model)
On sale: Now
An all-new generation of the Touareg for 2011 models replace the first generation which debuted in 2003. The new Touareg gets a Volvo-worthy list of new safety features, including cruise control that can stop the car completely if it senses the closing distance to the car ahead is diminishing too fast; lane-departure warning and blind spot monitoring; headlights paired with a camera that can "see" oncoming traffic and dim the high beams; and a panoramic view of the area immediately outside the car, using four cameras to help avoid hitting people or objects at parking speed. The 2011 Touareg also gets its first hybrid version.