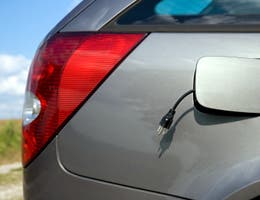 10 cool electric cars of the future
Automakers worldwide have gotten the message loud and clear: To be successful, new hybrids and electric cars will have to wipe out the idea they are nothing more than glorified golf carts.
Demand for far greater fuel-efficiency is coming from two sides — consumers, who have shifted away from gas-guzzling cars and trucks, and governments jacking up standards for lower emissions and higher miles per gallon.
The result? A bevy of new cars unveiled at the recent 2010 North American International Auto Show in Detroit, all trying to show how cars can be "green" and "cool" at the same time.
Just about every automaker got on the electric car bandwagon at the show, bolstering the notion that gasoline-electric hybrids and battery-only electric cars are becoming more and more mainstream, even though plug-in hybrids and electric vehicles aren't even available yet, outside of a few experimental test units. In fact, carmakers already are starting to offer different varieties of each, including sports cars with distinctive styling and respectable performance.
Here's a look at 10 "cool" and "green" cars — none yet on the market and some that never will be — Bankrate found at the show that offer a peek into the future.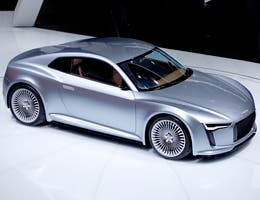 Audi e-tron
Why it's green: Runs on battery power.
Why it's cool: Dynamite styling.
The Audi e-tron concept car is a sexy, two-seat sports car that runs exclusively on battery power. Two electric motors mounted on the rear axle propel it from zero to 62 mph — 100 km per hour — in 5.9 seconds. That's not bad, considering some of the fastest, gas-guzzling cars in the world take about four seconds. To save weight, the e-tron is built on a rigid aluminum frame, with the body panels made of fiber-reinforced plastics.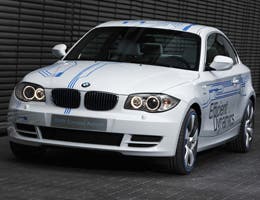 BMW Concept ActiveE
Why it's green: Runs on battery power.
Why it's cool: Built to drive like a BMW.
In a nutshell, the BMW Concept ActiveE is a battery-powered version of the BMW 1 Series coupe. Assuming BMW eventually offers it to the public, that's good news for eco-minded auto enthusiasts with a small family. The BMW 1 Series is the BMW brand's smallest four-seater, with room for two (short) passengers in the back seat. BMW's Mini brand has already introduced a small test fleet of electric cars in the United States. The BMW Concept ActiveE will serve a similar testing role for the BMW brand.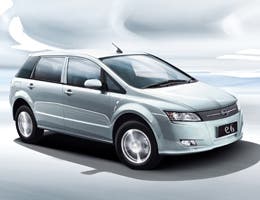 BYD e6
Why it's green: Runs on battery power.
Why it's cool: Novelty; could be first Chinese car for sale in the U.S.
It's unclear exactly when BYD will start selling cars in the United States. At the Detroit show, the company wouldn't say how many U.S. dealers it has signed up or where. Nevertheless, BYD insists it will be ready by late 2010. BYD's unique advantage is that it's one of the world's biggest manufacturers of rechargeable lithium-ion batteries, the kind used for laptop computers and other electronic devices, and for the latest generation of electric cars. BYD claims a range of up to 205 miles on a single charge. That's really good, but the e6 will be relatively slow for U.S. superhighways. On paper, performance is OK for around town.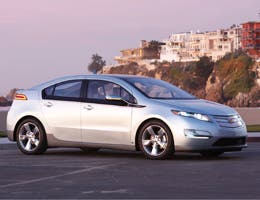 Chevrolet Volt
Why it's green: Plug-in hybrid.
Why it's cool: Remote-control, OnStar Mobile Application.
Chevrolet added an innovative remote-control feature to the Chevy Volt at the Detroit show, even though the Volt isn't even on sale yet. The new feature is a smart-phone application that can be used to order the car to recharge itself, to monitor how fully it's charged or to start the heating or air-conditioning. Using the remote control, the driver can preschedule recharging during "off-peak" hours, when electricity is cheaper. A plug-in hybrid can be recharged with ordinary current, or from the onboard gasoline engine. It's a race between the Chevy Volt and the Nissan Leaf to see which can be the first to the market. Today's hybrids, like the Toyota Prius, get recharged exclusively from the gasoline engine.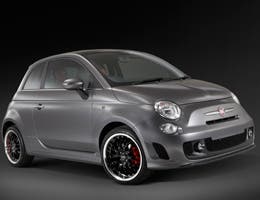 Fiat 500 BEV
Why it's green: Runs on battery power.
Why it's cool: Retro styling, tiny size.
Officially, Chrysler says the Fiat 500 BEV (for Battery-powered Electric Vehicle) on display on the Fiat-Chrysler stand in Detroit was strictly a trial balloon to gauge interest, with no plans to mass produce it. However, it would be logical to assume that Chrysler and its new parent, Fiat, are seriously considering an electric Fiat 500. Rival European brands like Smart and Mini have already announced plans to offer EVs. Meanwhile, Chrysler plans to offer a gasoline-powered Fiat 500 in the United States by late 2010.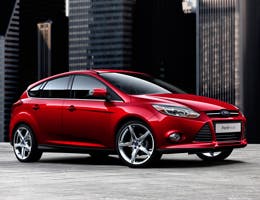 Ford Focus
Why it's green: High mileage, estimated 40 mpg.
Why it's cool: European styling, electronic features.
The new Ford Focus was designed in Europe from the ground up to be distinctive, and to get better gas mileage than the car it replaces. It has energy-efficient electric power steering, a fuel-efficient four-cylinder engine, better aerodynamics and other features that contribute to what Ford calls "class-leading" gas mileage. Ford hasn't announced an mpg figure, but the Ford Focus will need to get around 40 mpg to lead its size class. Interior features include a new generation of the Ford Sync system from Microsoft. Sync, which may be optional on the cheapest models, allows voice-control for cell phones and devices like MP3 players.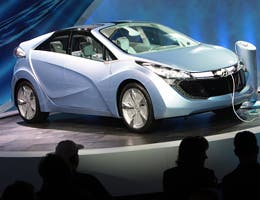 Hyundai Blue-Will Concept
Why it's green: Plug-in hybrid.
Why it's cool: Far-out styling, extra "green" features like solar panels.
Hyundai says the Hyundai Blue-Will Concept shows where the company's heading on several fronts, including hybrid technology, exterior design, interior features and the use of futuristic materials. Solar cells power a fan that keeps the interior cool when the car is parked in the hot sun. The heart of the Blue-Will Concept is a plug-in hybrid powertrain. It uses a fuel-efficient, 1.6-liter gasoline engine and an electric motor with batteries that can be recharged with ordinary household current. The company said the Hyundai Sonata Hybrid will have a similar hybrid setup when it goes on sale in the United States later this year, only without the plug-in feature. Eventually, Hyundai plans to have plug-in hybrids.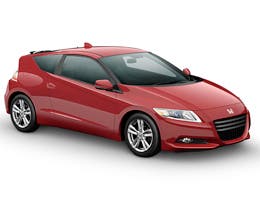 Honda CR-Z
Why it's green: Hybrid.
Why it's cool: Sporty styling.
The Honda CR-Z is powered by a small, 1.5-liter, four-cylinder gasoline engine, which gets an assist from a battery-powered electric motor when needed. Together, the system produces 122 horsepower, which is reasonably peppy for such a small package. With an optional, fuel-efficient Continuously Variable Transmission, the CR-Z is expected to get 36 mpg city/38 mpg highway, Honda says. U.S. sales start late this summer, according to Honda.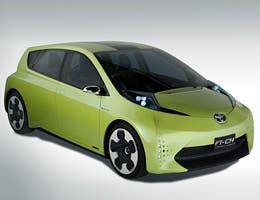 Toyota FT-CH Concept
Why it's green: Hybrid.
Why it's cool: Mildly retro, boxy styling.
The Toyota FT-CH Concept shows what a smaller, less-expensive hybrid positioned below the Toyota Prius might look like. It was designed at a Toyota studio in Nice, France, to appeal to what's called the "8-bit Generation." That refers to what are now classic video-game systems from the 1980s like Nintendo that were made possible by more powerful 8-bit microprocessors. By the middle of this decade, Toyota says it will have an entire range of hybrids, plug-in hybrids and battery-only electric cars, plus even fuel-cell vehicles that run on hydrogen. The Toyota FT-CH is a step in that direction.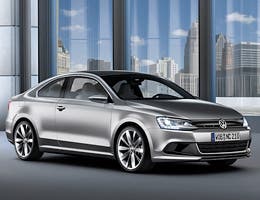 Volkswagen New Compact Coupe Concept
Why it's green: Hybrid.
Why it's cool: Sporty performance, Euro styling.
With only a small, 1.4-liter four-cylinder gasoline engine in the VW New Compact Coupe Concept, Volkswagen uses turbocharging, direct injection, an electric motor and a seven-speed automatic transmission to get decent performance and an estimated 45 mpg. Direct injection forces gasoline into the combustion chamber at much higher pressure than a typical gasoline engine. That results in much more precise burning, more power and lower emissions from a given amount of gasoline. VW calls the "NCC" a concept car, but it has the look of a car that's close to going into production.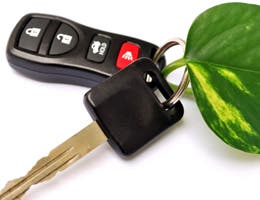 For more information
Here's more valuable information on hybrid and electric cars: